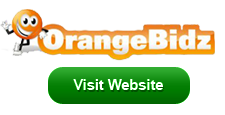 OrangeBidz.com is one of the smaller penny auction sites, offering a 'less competitive' community than sites like Quibids or DealDash. OrangeBidz is a pretty basic penny auction site, and operates in much the same way as sites like Quibids. If you are looking for a new penny auction site with less traffic and competition, than OrangeBidz may be a great site for you to check out. If you have ever bid on an auction at OrangeBidz, than please don't hesitate to leave your own OrangeBidz review at the bottom of the page.
Disclaimer: This review was written by an independent third party. For any comments or factual corrections, please email info@bestpennyauctionsites.org.
About OrangeBidz
Competition: Low to Medium

Other ways to get free bids: You can win more by referring friends (30 bids) and by submitting customer testimonials.

OrangeBidz coupon codes: Almost never offered.
OrangeBidz Address: OrangeBidz.com, 569 N. Mountain Ste B: Upland, CA 91786 -USA

Phone Number: NA (Unknown)

Facebook: facebook.com/orangebidz

Twitter: twitter.com/orangebidz
OrangeBidz Review
Orangebidz.com offers a quality penny auction experience in a small community where the competition is not quite as fierce as it can be on some of the larger sites. They offer some free bids when you sign up, but also offer free auctions for both bids and goods, making the acquisition of new bids relatively easy even if you are on a budget. They offer a variety of high-quality products, and regularly end up saving their customers up to 95% off of the retail price of items that are sold during auction. They will also give you back your bids if you lose but still choose to buy the product at the original retail price.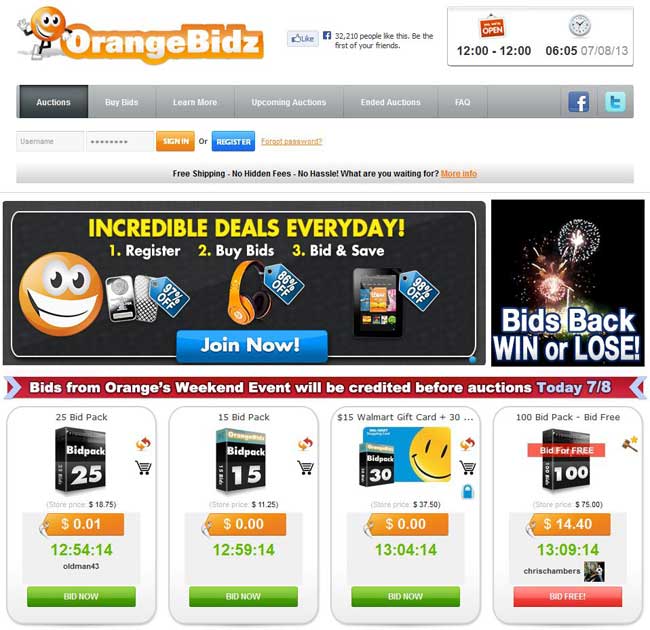 The lack of fierce competition is somewhat offset by higher bid prices. Bids cost $0.75 each, though you can get them for as low as $0.14 each if you buy them through auctions or during special events.
OrangeBidz Auction Features
Special Events: OrangeBidz offers a variety of special events that can earn you extra bids, prizes, or other incentives. They are generally fun to participate in, and offer a wide range of deals that can definitely enhance your experience.
Multi Level Bidding: Beginner (reserved with bidder with 3 wins or less) and Intermediate (reserved for bidders with 30 wins or less), Etc.
Free Shipping: At Orangebidz shipping is FREE!
Amazon Exchange: This is a unique feature to penny auctions. When you win a penny auciton, you can opt to swap the product with an Amazon.com gift card of equal value. This is a great feature. Ocassionally, some auctions are noted with "no exchange available" but at this time, most penny auctions seems to offer excahnge.
Refer-a-Friend: OrangeBidz refer-a-friend program allows users to receive 30 FREE bids when the friend they have referred signs up and purchases a bid pack!
Common OrangeBidz Auctions
Gift cards (There are always a TON of gift cards up for auction on this site)
Computer games and consoles such as Doom for PS4, XBox One, etc.
TVs and other home entertainment electronics including Echo Dot, Apple MacBooks, Apple TV's etc.
Household items, including small appliances like toasters, Shop Vacs, etc.
Fashion items
Digital cameras
Different types of Ipods, headphones, and other personal electronics like Fire HD 10, Drones & GoPros.
A myriad of other products
OrangeBidz's Auction Features
OrangeBidz's Auction Box Explained
The OrangeBidz auction box is pretty typical of penny auction boxes. Features include the product name, description, auction types, current high bidder and, of course, the penny auction timer.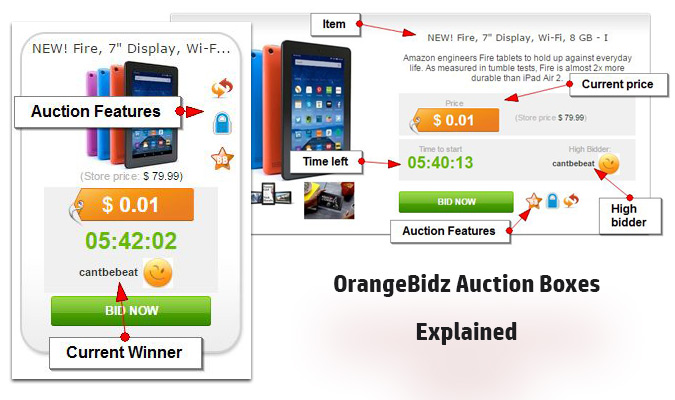 Types of OrangeBidz Auctions
| Symbol | Auction Description & Commentary |
| --- | --- |
| | Beginner Auctions: Reserved for members with up to 3 bids. |
| | Intermediate Auctions: Reserved for members with up to 30 bids. |
| | Expert Auctions: Reserved for members with 30 or more bids. |
| | Buy-It Auctions: Buy the item and get 100% of your bids back if you did not win. |
| | Free Auctions: All members can participate, no penny auction bids needed. |
| | Zero Auctions: Winner gets the auction item free. |
| | Blue Lock: Bidder can only win 1 blue lock penny auction per day. |
| | Black Lock: Bidder can only win 1 black lock penny auction per week. |
| | Bids Back Auctions: If you lose the auction, Orangebidz will return your bids 24 hours after it ends. |
| | Autobidder Available: OrangeBidz auto bidding tool is available. |
| | 24-Hour Auctions: More to come. |
| | Fixed Auctions: Final auction price is fixed. |
OrangeBidz.com Shipping and Fees
OrangeBidz actually offers free shipping on almost everything, even if you buy the item for retail price after losing an auction. According to their terms and conditions, all items will arrive at your doorstep within 2-10 days.
Is OrangeBidz A Scam?
By all accounts, it seems that OrangeBidz is an honest penny auction site where you can pick up some quality items at a great price.
OrangeBidz Pros and Cons
Pros… OrangeBidz offers free shipping, a wide range of products, a smaller community, and a lot of special events that allow you to save money on bids and products.
Cons… Though OrangeBidz is a small community, there tend to be a few 'power bidders' who can be difficult to beat in the beginning until you really know what you are doing. Also, the price per bid tends to be higher than average, probably due to this being a small penny auction community.
Orangebidz FAQ
How does the OrangeBidz winning guarantee work?
Penny Actionne
2018-07-16T16:10:09+00:00
We have a more detailed write up here. but if you looking for an over view; the basics are:
Applies to new bidders only. Not a member, sign-up now.
Applies to select bid packs: Pay attention when purchasing your first bid package as the more expensive packages offer the guarantee.
1 Refill: The guarantee really means that, if you don't win and run out of bids, OrangeBidz will refill your bid just 1 time.
PENNY AUCTIONS COMPARISON
Website
Editor's Rating
Type
Best Features
Read Review
Penny Auction
Many auctions available from TV's to home appliances, featuring beginner auctions, free shipping, great reputation.
@dealdash
Review Coming Soon
E-commerce
Huge online marketplace, many perks with prime membership including 2-day free shipping
@amazon
Read Review
Free Auction
Largest marketplace to find online auctions, with many categories, offers buy it now and promotions
@ebay
Read Review
Free Auction,
E-commerce
Offers products across all categories, similar to eBay, less expensive for sellers so slightly lower prices.
@bonanza
Read Review
Penny Auction
Always free shipping. You can earn free bids by referring friends and family.
@centbids
Read Review
Free Auction
Many auctions are available in all categories, unique product offering.
@ebid
Read Review
Free Auction,
E-commerce
Offers vacation & travel auctions, excellent Deal of the Day section with unique buy it now offers.
@ubid
Read Review
Free Auction
Steal of the Day section, various categories with a

uthentic police seized, stolen, abandoned and surplus goods.

@propertyroom
Read Review
Penny Auction

Special events to win extra bids, prizes, or other incentives, shipping is free, refer-a-friend program to earn free bids.

@orangebidz
Read Review
Penny Auction, 
E-commerce
Free shipping on almost everything, auctions available in many categories laptops and tablets to purses and jewelry.
@quibids
Read Review
Free Auction,
E-commerce
Various product categories from jewelry to electronics featuring high paced auctions, with Buy It Now options.
@tophatter
Read Review
Penny Auction, 
E-commerce
Primabids store where you can buy it now, winners can re-sell products which they've won, gift cards, games, and many other products.
@primabids
Read Review
Penny Auction
Beginner Auctions, buy it auctions, offers auctions in many categories and discounts for new bidders.
@wellbid
Read Review
Free Auction
Offers government Auction information for thousands of yearly government auctions, bank foreclosure, car, truck, and other automobile auctions
@policeauctions
OrangeBidz User Reviews
The reviews below were submitted by users, and solely reflect the views of the individuals who submitted them. Users were not compensated for leaving a review.
OrangeBidz
Average rating:
10 reviews
Mar 13, 2019
penny auction autobidder
Orange bids rock! Try bidpanther for free daily auction stats

https://www.bidpanther.com/
Dec 20, 2018
Very poor
The limited hours largely exclude those of us from the East coast. Almost every item sells at above it's retail value. High number of power bidders (or bots???) who are in on every auction helping to inflate the prices. All in all, pretty terrible. I have 5000 bids, but I only occasionally pop in on the site anymore. Pretty much a waste of time – you won't find deals here.
Dec 5, 2018
SCAM YOU NEVER WIN ANYTHING
IF YOU WIN SOMETHING YOU PAY TWICE AS MUCH. CALLED CUSTOMER SERVICE SHE HUNG ON ME. DIDNT WANT REFUND MY MONEY!!!!!! DON'T SPEND YOUR MONEY!
Sep 29, 2017
Scam
Don't play here, the rules on special auctions are never described in full and you never know if you are bidding against someone who has free bids or a double win. You are limited both in time range and number of auctions per day. The website has frequent slowdowns, usually when you are about to bid and had many rage bidders who routinely bid over the already inflated stated retail prices. If you do have a problem you will get no help, stay away.
Nov 9, 2015
WARNING
ADGUARD WARNING: Adguard has blocked access to this page



This web page at register.orangebidz.com, has been reported as a phishing page and has been blocked based on your security preferences.



Adguard has found that this page may be a forgery or imitation of another website, designed to trick users into sharing personal or financial information. Entering any personal information on this page may result in identity theft or other abuse.
Mar 28, 2015
Pros/Cons from a newbie
Couple of issues I have found. First, better site than most penny auction sites. However, they DO charge shipping (Just paid auction price AND shipping charge of $3.95 for a gift card) and there are people (as some have already stated) willing to pay more than the value of the item and this becomes frustrating. All in all, this is a great site for beginners but be aware of hidden shipping charges.
Mar 19, 2015
Higher Closing Cost Than Value
I just signed in to Orange Bidz for the first time in a long time today. I took a look at the closed auctions to see what kind of deals people were getting and I was surprised to see that the closing costs on a lot of the auctions were higher than the value of the gift cards! I'm glad this site is still around, but perhaps it's time to think about expanding the number of auctions that are available. I can't imagine why anyone would ever spend money to try to "win" a $30.00 gift card for $32.00.



I have won auctions in the past and received my winnings from this site, so two stars for that.
Nov 20, 2014
It's good
I haven't won anything big yet but have picked up a few gift cards. So for so good.
Jun 6, 2014
Beefing it up
OB has really beefed up auctions lately. Site seems a bit more busy too but I'm still winning! wooop
Mar 26, 2014
Why Orangebidz is a great auction.
My first reason for enjoying Orangebidz is that the BIN option is an honest price, not inflated by the addition of too many highly priced bids. If I don't win something because my math has told me that the cost of my bids plus he bid price is too high, I can then buy the item and get all my bids back, meaning I have lost nothing at all.



Secondly, the staff is very helpful. I have some communication issues from a brain trauma and the staff has always worked very hard to answer my questions and explain special auctions or other events to me.



If you want to enjoy modestly priced items and can do the math necessary to know what you are spending, OrangeBidz is a great way to win without ever "losing."