Police seized property is what Propertyroom.com is all about, although it's not a penny auction most of the auctions start at $1. They have plenty of different items available since they have over 3,000 law enforcement agencies, municipalities and small businesses with live auctions.  Its pretty user friendly we were able to navigate the site and find information without much effort, legit auction site with an A+ BBB rating.  
About PropertyRoom
PropertyRoom Coupon Codes: None needed, most auctions start at $1

Free bids at sign-up: N/a, bids are free

Other ways to get free bids: N/a, bids are free
PropertyRoom Address: 5257 Buckeystown Pike STE 475 Frederick, MD 21704-7535

Phone number: (240) 751-9123

Facebook: facebook.com/PropertyRoom/

Twitter: twitter.com/PropertyRoom
Editor's PropertyRoom Review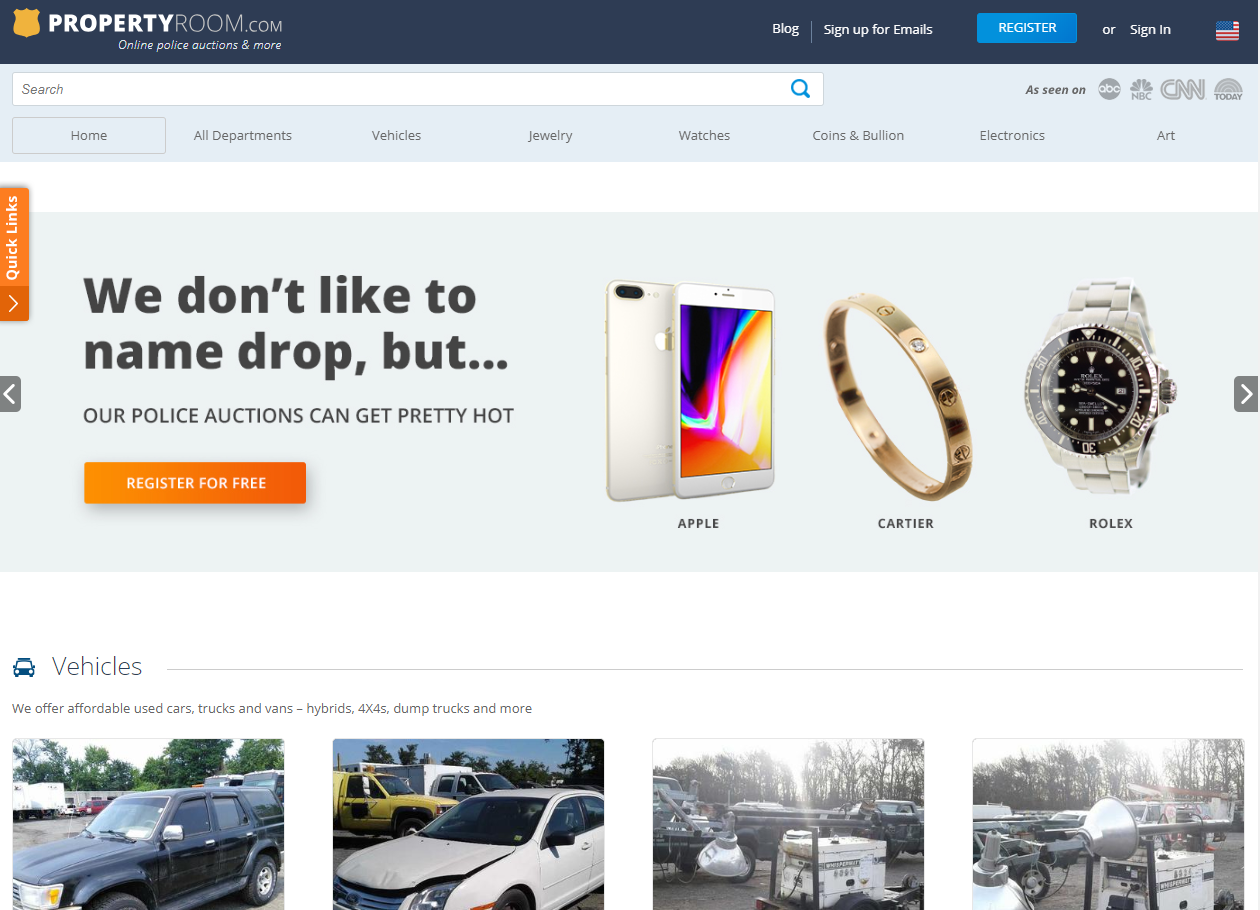 PropertyRoom has a huge variety of items from electronics to cars and once we found something to bid on it was pretty easy to start bidding right away. Registration is super easy it's just one form to fill out, then you verify your email and set up your payment method (you can add your paypal for extra buyers protection). Once we set up the account we personalized it by setting up watch list, email alerts and added our shipping information.
We had a really fun time on the site and its definitely a unique auction site, you can find some rare things such as this Hawaiian dollar from 1935!

PropertyRoom Auction Features
It was really easy to use website, some of the features we found:
Authentic Auctions: Authentic police seized, stolen, abandoned and surplus goods.
Many Sellers:  Thousands of vendors across different categories from police, municipalities and even liquidators.
Detailed Information: Very good item descriptions, with clear information on all auction terms.
Common PropertyRoom Auctions
Quick wins

Bikes

Coins and Bullion

Collectibles

Computers

Electronics

Fashion

Art
Jewelry

Musical Instruments

Steal of the Day

Sunglasses and Eye-wear

Vehicles
Everything Else
Cool Auctions and Good Information
Take a look at this car auction, they provide you with plenty of photos and a ton of information on the vehicle such as vin number and the mileage on the odometer. If your handy something like this can be a steal if you win, take a look at our auction guide for more info on bidding successfully.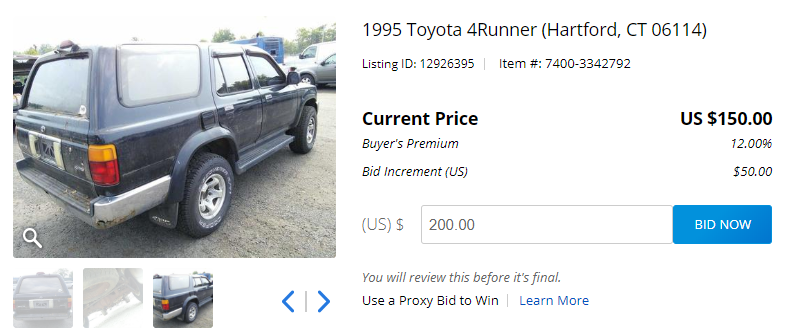 PropertyRoom.com shipping and fees
Some of the listings offer free shipping but it does depend on the seller, a lot of the auctions do have a shipping and handling fee the highest we saw was about $10 bucks. Other auctions like the ones for vehicles require customer pick up(which makes sense).
Is PropertyRoom a scam?
Overall we find Propertyroom.com to be a really cool site with surprises waiting inside, with a A+ BBB accredited business rating it's a great choice for winning auctions and we don't think it's a scam. Only thing we disliked is their return policy which is kind of a process first you have to get an RGA(Return Goods Authorization) from their customer support. Then it is completely up to them on whether to approve or deny your return, so it's best to review the auction really well before bidding. Other than this there are plenty of positive customer reviews making Propertyroom.com and really good auction site, just take a look below..

PropertyRoom FAQs
Here are some of the most commonly asked questions about the auction website, PropertyRoom.com.
Can I process the winning bid payment over the phone?
Penny Actionne
2019-01-09T16:01:02+00:00
No. In order to participate in the auctions you must have a credit card or PayPal.
When you win the payment is processed automatically.
FREE AUCTION COMPARISON TABLE
Website
Editor's Rating
Type
Best Features
Read Review
Penny Auction
Many auctions available from TV's to home appliances, featuring beginner auctions, free shipping, great reputation.
@dealdash
Review Coming Soon
E-commerce
Huge online marketplace, many perks with prime membership including 2-day free shipping
@amazon
Read Review
Free Auction
Largest marketplace to find online auctions, with many categories, offers buy it now and promotions
@ebay
Read Review
Free Auction,
E-commerce
Offers products across all categories, similar to eBay, less expensive for sellers so slightly lower prices.
@bonanza
Read Review
Penny Auction
Always free shipping. You can earn free bids by referring friends and family.
@centbids
Read Review
Free Auction
Many auctions are available in all categories, unique product offering.
@ebid
Read Review
Free Auction,
E-commerce
Offers vacation & travel auctions, excellent Deal of the Day section with unique buy it now offers.
@ubid
Read Review
Free Auction
Steal of the Day section, various categories with a

uthentic police seized, stolen, abandoned and surplus goods.

@propertyroom
Read Review
Penny Auction

Special events to win extra bids, prizes, or other incentives, shipping is free, refer-a-friend program to earn free bids.

@orangebidz
Read Review
Penny Auction, 
E-commerce
Free shipping on almost everything, auctions available in many categories laptops and tablets to purses and jewelry.
@quibids
Read Review
Free Auction,
E-commerce
Various product categories from jewelry to electronics featuring high paced auctions, with Buy It Now options.
@tophatter
Read Review
Penny Auction, 
E-commerce
Primabids store where you can buy it now, winners can re-sell products which they've won, gift cards, games, and many other products.
@primabids
Read Review
Penny Auction
Beginner Auctions, buy it auctions, offers auctions in many categories and discounts for new bidders.
@wellbid
Read Review
Free Auction
Offers government Auction information for thousands of yearly government auctions, bank foreclosure, car, truck, and other automobile auctions
@policeauctions
PropertyRoom Bidder Ratings and Reviews
The reviews below were submitted by users, and solely reflect the views of the individuals who submitted them. Users were not compensated for leaving a review.
PropertyRoom
Average rating:
0 reviews