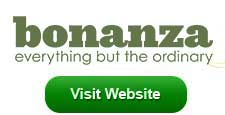 Bonanza is quickly becoming one of the most popular peer to peer marketplaces, rivaling websites such as eBay, Tophatter, eBid.net, and other popular only auction and marketplaces. As seems to be the business strategy with other eBay rivals, Bonanza has taken a "seller-centric" approach to building an enormous catalog of sellers worldwide. For the end user (you!), this means lots of variety in the types of items for sale in this marketplace. Much of which you probably won't find anywhere else. Please keep in mind that Bonanza is NOT a penny auction website, but an online marketplace similar to ebay.
About Bonanza.com
Website: https://www.bonanza.com

Competition: None, no bidding is needed

Bonanza Coupon Codes: Not needed
Bonanza Address: 3131 Western Ave Ste 428, Seattle, WA 98121-1028

Phone number: (206) 588-5849

Facebook: facebook.com/BonanzaMarket
Editor's Bonanza Review
Bonanza is just like eBay, except a much newer option born with a goal of creating a marketplace where anyone can sell and items seem a bit more unique. If eBay and Etsy were to get married and make a baby, Bonanza would be the result. In short, Bonanza is an online marketplace featuring tens-of-thousands of sellers from around the world. The website offers both new and used products in every category. As a buyer, you're given the chance to purchase both unique and run-of-the-mill items. As a seller, it's basically the same as eBay except without as many seller fees.
Please note that Bonanza.com is NOT a penny auction. That's right, NOT a penny auction.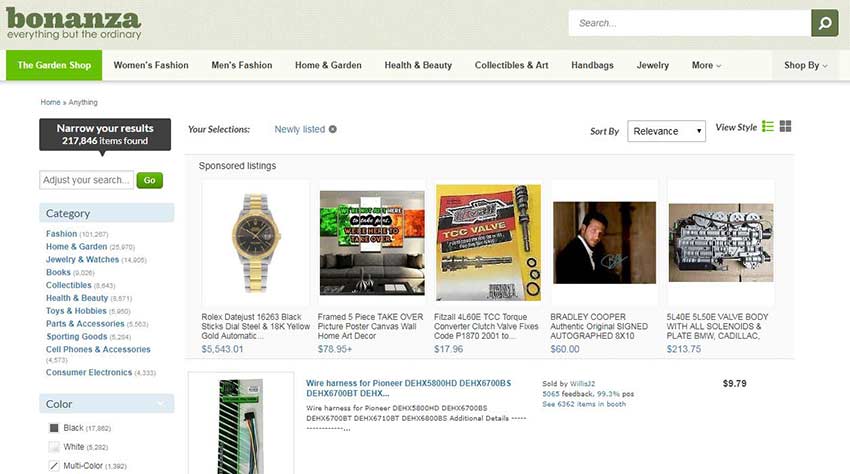 Bonanza Marketplace Features
Bonanza.com differs from penny auction websites in a few ways:
Non-Auction Format: Bonanza is not an auction website, it's a marketplace where you do not compete (bid) for an item.
Free to participate: All auctions are free to participate in. The consumer only pays when she/he wants to buy an item.
Private Sellers: Products sold on Bonanza are done so by other vendors. So there are basically thousands of vendors auctioning products at all times.
High Volume: At a glance, there seems to be about 250,000 items for sale across almost every shopping category.
Common Bonanza Items
New items
Used items
Fashion (cloths, jewelry, hats, winter cloths, etc.)
Electronics (consumer electronics, home made electronics, name brand electronics)
Home goods (home decor, gardening, etc.)
Collectibles (sports memorabilia, etc.)
Antiques
Pet supplies
Really, everything else
Bonanza Shopping Tips
Watch the seller: Bonanza is not a retail company. They are a website. All items for sale on Bonanza.com are sold by third party sellers. Some are great, some are not. Ready seller reviews (link to seller reviews on each auction page) BEFORE buying.
Shipping cost: Items come from all over the World and shipping can be expensive. Again, look for the shipping costs charged by sellers on each product page.
Shipping time: Same as above, items shipping across the World will take time (weeks) to arrive.
Bonanza Marketplace Shipping and Fees
Bonanza sellers are responsible for setting their own shipping fees. It's important that you the buyer review the shipping costs and time for each item that you are puchasing. We cannot stress this enough. The most common bad review of the Bonanza website is complaints about shipping. Don't buy from sellers if you aren't okay with the shipping cost or time!
Is Bonanza a scam?
We don't think so. Bonanza is an online marketplace full of great and terrible sellers. Read seller reviews, buy what you like.  The simple way to avoid feeling taken.
Bonanza Pros and Cons
Bonanza Pros: Free to shop, huge wide selection of products, some unique stuff to buy.
Bonanza Cons: Shipping can be timely and expensive, seller reputations vary greatly but are easy to see on the website.
Bonanza.com FAQs
Here are some of the most commonly asked questions about the website, Bonanza.
What is a Top-Rated Seller on Bonanza
Penny Actionne
2018-03-05T15:30:51+00:00
On Bananza, a top-rated seller is one who essentially has a great reputation. We recommend only working with top rated sellers if you want to be on the safe side in terms of product quality and vendor reliability. Top Rated Sellers:
Have 98%positive feedback
Have been selling on Bonanza for 90+ days
Have sold at least $250 in goods with 25+ transactions
Have a refund rate of less than 20%
Look for the following logo on auction pages to ensure that the seller has the 'Top Rated' designation.

FREE AUCTIONS & E-COMMERCE COMPARISON TABLE
Website
Editor's Rating
Type
Best Features
Read Review
Penny Auction
Many auctions available from TV's to home appliances, featuring beginner auctions, free shipping, great reputation.
@dealdash
Review Coming Soon
E-commerce
Huge online marketplace, many perks with prime membership including 2-day free shipping
@amazon
Read Review
Free Auction
Largest marketplace to find online auctions, with many categories, offers buy it now and promotions
@ebay
Read Review
Free Auction,
E-commerce
Offers products across all categories, similar to eBay, less expensive for sellers so slightly lower prices.
@bonanza
Read Review
Penny Auction
Always free shipping. You can earn free bids by referring friends and family.
@centbids
Read Review
Free Auction
Many auctions are available in all categories, unique product offering.
@ebid
Read Review
Free Auction,
E-commerce
Offers vacation & travel auctions, excellent Deal of the Day section with unique buy it now offers.
@ubid
Read Review
Free Auction
Steal of the Day section, various categories with a

uthentic police seized, stolen, abandoned and surplus goods.

@propertyroom
Read Review
Penny Auction

Special events to win extra bids, prizes, or other incentives, shipping is free, refer-a-friend program to earn free bids.

@orangebidz
Read Review
Penny Auction, 
E-commerce
Free shipping on almost everything, auctions available in many categories laptops and tablets to purses and jewelry.
@quibids
Read Review
Free Auction,
E-commerce
Various product categories from jewelry to electronics featuring high paced auctions, with Buy It Now options.
@tophatter
Read Review
Penny Auction, 
E-commerce
Primabids store where you can buy it now, winners can re-sell products which they've won, gift cards, games, and many other products.
@primabids
Read Review
Penny Auction
Beginner Auctions, buy it auctions, offers auctions in many categories and discounts for new bidders.
@wellbid
Read Review
Free Auction
Offers government Auction information for thousands of yearly government auctions, bank foreclosure, car, truck, and other automobile auctions
@policeauctions
Bonanza Shopper Ratings and Reviews
The reviews below were submitted by users, and solely reflect the views of the individuals who submitted them. Users were not compensated for leaving a review.
Bonanza
Average rating:
60 reviews
May 5, 2022
Great Site for Selling
We are selling since 2010 there and I have honestly nothing to complain! We are based in Malaysia and everything that goes out will be send registered or trackable and the tracking number uploaded to every purchase, which leads to very little problems with buyers. I read the reviews here and can only shake my head - I must have been lucky to not encounter any of those mentioned problems!
Jul 28, 2020
Caveat Emptor

DO NOT BUY

YOU GET A DEAD STICK ABOUT SIX INCHES LONG
Jul 28, 2020
Poor customer service. Failure to pay attention to details. Sent package to buyer not shipping address as noted on confirmation email. Originally i requested a free shipping lable so i could send it out. . Instead they promised to resend to correct shipping address. No follow up from them as i continued to try to get the pkg to correct address. Original order may16. Now may 28 without satisfaction. I would not use this company again. Free shipping will now cost me about $20.
May 18, 2020
NOT GOOD
IF YOU HAVE A PROBLEM WITH A SELLER, THEY DUMP IT IN YOUR LAP. OBVIOUSLY THEY DO NOT CHECK OUT THEIR SELLERS.
Jul 11, 2019
Scam
This is a horrible website. I was searching for an item and found it on this website. I went in to purchase it and received a message that the seller has to "approve" my purchase. I wait 5 days and the seller does not respond. I send an email asking about my purchase and immediately receive an email that the seller decided not to sell to me. I have impeccable credit. WTH??

Dont waste your time with the scam website.

Now I cannot delete my profile. I guess I have to file a complaint against them.
Jun 17, 2019
I feel so confused about what happened.
I feel so confused about what happened. After over five (5) years of being on Bonanza our company's account was simply deleted.



As with any other day I log into the Bonanza account to process the customer orders that was received. Well I find that on May 29, 2019 I go to log into the account to process customer orders and found that I was unable to log-in.



At first, I thought Bonanza was updating their website, so I contacted Bonanza and asked them what was going on? They responded with this:



"Judy (Bonanza)



May 29, 12:39 PM PDT



Hello,



Thank you for contacting us. Our system is preventing us from opening an account on Bonanza for you at this time. We apologize for any inconvenience. It is our priority to keep Bonanza the safest possible marketplace for our buyers and sellers to use. Due to security restrictions, our team is unable to provide further details involved with this action.



Fortunately, we are able to recommend a few great alternatives such as ioffer.com or ecrater.com, both of which have strong monthly traffic and a good base of buyers and sellers. eBid.net is a good site for those who wish to deal in the auction format.



If you have any further questions, please see our terms of service, which provide complete details about our user policies, including our right to suspend an account at any time.

http://www.bonanza.com/site_help/user_agreement



Thank you for your interest in Bonanza and we sincerely apologize again for any inconvenience this may have caused you. We wish you the best of luck in your future endeavors!"



I am sitting here dumbfounded, scratching my head and can't help but wonder what happened???



Then it dawned on me that this was a response to me asking Bonanza to honor their gift card which a customer used to purchase an item from our store.



A customer purchased an item from our store and used a $20 Bonanza gift card and we did not receive the funds from the gift card so I contacted support with this email:



"Date: Tue, May 28, 2019 12:30 am



We sold an item on Bonanza and the customer used a $20 gift card which is fine, but we see that we have not received payment from the gift card.



Payment has been received from the customer but we are not able to process the order without receiving payment from the Bonanza gift card. The note on the gift card says "The payment from Bonanza will arrive via PayPal immediately after the order is complete" The customer placed the order so the order is completed, now we need to process the order.



Can you please look into this so we can get this order shipped out fast?



Best regards"



I then received this email:



"Judy, May 28, 9:29 AM PDT



Good Day,



Thank you for emailing and letting us know. Let me check on that for

you.



Let us know if you have any other questions.



Regards

Judy"



I responded with:



"Admin, May 28, 2:21 PM PDT



Thank you for looking into this.



I have checked and see the gift card payment still has not been received from Bonanza.



We are unable to ship out this order to the customer until payment has

been received.



Best regards"



After this email Judy told me the payment would be posted tomorrow of which it did not post and so we were unable to fulfill the order due to payment issues from Bonanza. We had no choice but to issue the customer a full refund of the payment that we had received. Being that we did not receive the $20.00 from the Bonanza gift card the customer sent us an email asking us where the funds were for the Bonanza gift card and we explained the situation and asked them to contact Bonanza for a refund as they rightfully deserved. We do not have any information on if Bonanza refunded the customer but we assume not.



I noticed that I was unable to log into the account so I contacted Judy again with this email:



"Admin, May 29, 11:38 AM PDT



Thank you for taking care of this issue but it looks like I have another issue.



For some reason I cannot log into my Bonanza account now. When I do log into my account, I receive the message "Just letting you know... Logout complete."



I am not sure if Bonanza is updating the site or what.



I appreciate you looking into this.



Best regards,"



After this email Judy sent me the email as shown in the beginning of this review, telling me pretty much to go do business on another marketplace.



I understand that Bonanza has a right to tell a company they cannot do business with them anymore but this is seriously a petty reason to do so.



We have been doing business on Bonanza for over five (5) years with many happy customers and to see them throw us away like this just seems really wrong.



I have contacted Bonanza asking them why they have decided to prevent us from selling on their marketplace and after not receiving any response for days the company filed a complaint on the Better Business Bureau website and finally received a response which stated that the account was a high security risk and they could not give us any information about it. This response left us with more questions but they closed the complaint as answered and we were not able to get any further response.



We are thinking that they just gave us that response even if it did not pertain to our account it was just a response that they give to any account owner that they decide they don't like and so they simply delete and ignore.



There has to be a reasonable explanation because the idea of them closing our account over asking them to honor their gift card is unfathomable.



What about all of the orders from our customers? Is Bonanza going to contact our customers to let them know what is going on with their orders? Does Bonanza really not care if people purchase from their site and not get their orders fulfilled? This is terrible.



There is no phone number that works to call the company, even the phone number on the Better Business Bureau website is not operational.



If I hear any updates, I will update this review, but jeez our company feels pretty unimportant the way Bonanza has treated us after five (5) years and earning so many of their badges on our profile.
Jun 10, 2019
Impossible
Horrible, this site and the hidden locations of sellers sucks. My order was made 3 weeks ago and hasn't been shipped yet. Sent email to seller after week. Second email this week was ignored. Seems like an absolute scam site to me. Impossible to work this website. I hate bonanza.
Jun 10, 2019
Ban with no reason?
I was always iffy about bonanza due to the fairly outrageous fees but on top of all that I got my account banned somehow (I literally received 0 contact) and they absolutely refuse to acknowledge me though I've tried multiple times to contact. Very poor way to do business in my opinion.
Jun 10, 2019
Fraud
I would give them zero stars if I could. They took my money, but never delivered the product. Now they are doing nothing to help me obtain a refund. Only crooks take your money. Warning, stay away!!!
May 10, 2019
RIP Off!!!
Yes like many other users, they do not help you when you dont get and item paid for.Do not use this site unless your are alright with losing your money.