LiveAuctioneers.com is a free-to-participate online auction website which focuses pairs sellers and buys in an environment similar to ebay, but with a product like which screams, "estate auctions". That is, the typical products auctions can be used, antique, lots of overstock items, items hard to value, etc. Live Auctioneers is very different from most of the online auction websites which we typically review for this reason.
About LiveAuctioneers.com
Free Sign-Up Bids: Bids always free

Other ways to get free bids: n/a

LiveAuctioneers Coupons: None that we know of.
LiveAuctioneers.com Address: 220 12th Ave Fl 2, New York, NY 10001-1011

Phone Number: (888) 600-2437

Facebook: facebook.com/LiveAuctioneers/

Twitter: twitter.com/liveauctioneers/

BBB Rating: A+ (Accredited)
LiveAuctioneers Review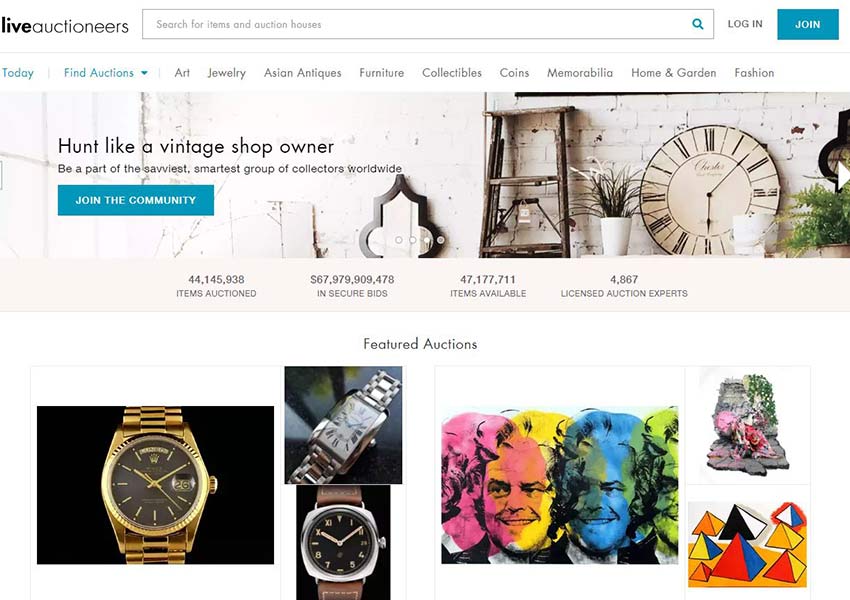 LiveAuctioneers.com is not a penny auction website. It's a typical auction website in terms of being a free-to-participate auction format. Unlike TopHatter, Ebay, and other free auction websites, LiveAuctioneers does not carry all the latest and greatest gadgets nor do they offer highly-discounted products from overseas. LiveAuctioneers.com focuses on vintage, used, high-end products, etc. type products. Less volume that other auction sites, this one is targeting the knowledgeable enthusiast/collector among other things.
LiveAuctioneers Features
Art
Jewelry
Antiques
Furniture
Collectibles
Coins
Memorabilia
Much more.
Subscribe Free
Free LiveAuctioneer Bidding Guide
Get our free 5-part series (written by auction veterans) on bidding on LiveAuctioneers.com and the other top auction websites!
No SPAM, unsubscribe at any time.
Subscribe Free
LiveAuctioneers FAQ's
What is the BBB rating of LiveAuctioneers?
Penny Actionne
2018-09-11T17:33:12+00:00
The BBB rating (at the time of writing this post) for LiveAuctioneers.com was an A+.
Live Auctioneers User Reviews
LiveAuctioneers
Average rating:
8 reviews
Dec 1, 2021
Liveauctioneers.......A FARCE and safe haven for Auctions selling FAKE goods!
I had an issue with Nest Egg Auction and Mary Ellen Brechlin, Owner, when I won an item from their auction hosted by LiveAuctioneer. I promptly mailed Nest Egg payment for the won item. I followed up by emailing them and asking for written provenance, because they claimed the item was from the Estate of one of Handel Lamps top decorators and Artist. I received a reply that the item did not meet reserve and was returned to the Consignor. So, to avoid any issue with being refunded, I stopped my check. I posted feedback for Nest Egg on LiveAuctioneers, which they chose to not publish. I tried again, and was threatened by LiveAuctioneers and told to refrain from posting feedback. In a final attempt to post factual feedback, I was emailed by LiveAuctioneer and was informed my account was being suspended. If you plan to use LiveAuctioneer services, CAVEAT EMPTOR, you will get no help from them if you have an issue. I have been using their services since their inception and have had a few issues with Auction Houses, and appealed to them for help. They did NOTHING! Additionally, Liveauctioneer caters to Auction Houses who sell fakes and knockoffs.
Dec 18, 2020
No customer support
I have been a customer of Live Auctioneers for over five years and spent thousands of dollars through their web site with auction houses., without problems. Recently I bid on an auction hosted by Imperial Auction of FL. Since this was an auction house I had never bid with before I was very careful to read their terms and conditions regarding payment and shipping outside of the USA. I saw no problems in their Term & Conditions other than I had to pay Live Auctioneers rather than them directly. No big deal. So I proceeded to register for the auction using my Canadian address. Everything went fine and I was accepted to bid. I bought around $700 worth of goods and promptly paid the Invoice sent by Live Auctioneers. I separately mailed the auction house with shipping instructions. After hearing nothing from the auction house I mailed again after about a week, again nothing. After mailing them a third time inquiring about shipping I was forced to contact Live Auctioneers. On Nov 17 th I got a nasty phone call from Imperial Auctions telling me the don't ship to Canada because they can't get insurance! I don't know what the hell they are talking about as every other auction house in the US I deal with can. I told them so, and if they can't be bothered to learn their own USPS system just cancel the transaction. Joe, (I think that was his name) acted like I was trying to rip him off and told me if I wanted my goods I had better send him a money order and then maybe he would refund my credit card. Since the credit card transaction was made out to Live Auctioneers I know that he can't issue a refund. Blatant lies and an attempt to extort more money.

When I pointed out to Live Auctioneers that they are responsible for this mess since they were the ones who I paid, they stopped responding to me as well. I hope I can get the money back from my credit card company buy doing a charge back.

I will not longer deal with Live Auctioneers who seem to be in league with backwater auction houses who want international coverage but don't have a clue how to deal with anything but their own little mickey mouse, side of the road auctions.
Nov 11, 2020
Becarefull of flaws and gaps
Pictures of items are profesional photos misrepresenting often the real item....biding system is unclear and many items reach false figures at times....some auctionners dont worl wellll with your sendings ...Be very selective and cautios if you decide to bid.
Nov 11, 2020
becarefulll
Pictures of items are profesional photos misrepresenting often the real item....biding system is unclear and many items reach false figures at times....some auctionners dont worl wellll with your sendings ...Be very selective and cautios if you decide to bid.
Jul 28, 2020
Crapy site
Crapy site, full of fakes, and they will purposely mislead you not telling you properly.. Very bad site and support!
Jul 28, 2020
Rag and Bone Operation
It is difficult to fully describe the awful experience I have had with LiveAuctioneers. My experience is typical of dealing with rag and bone cart people, which they are. Some of the individual auctions are delightful, many are scammers.

One of LiveAuctioneers scam-like twists is to insist that all arrangements, including shipping—even when the vendor doesn't do shipping!—must be completed in 7 days. Failure to comply with this timetable results in the vendor keeping the paid-for item!

Be very aware of this site. I am sufficiently frustrated to pursue legal, regulatory and BBB action.

Be warned.
Nov 13, 2019
Shelters cyber bullies and stalkers attacking customers
I was a victim of cyber bullying and stalking by one of the auction companies on LiveAuctioneers. They took my personal information from the website and used it to find my business/place of employment where the auctionhouse published by personal information and home address, and made comments about me intending to make me look bad and embarrass me at my workplace. When i reported it to LiveAuctioneers via the better business bureau, they brushed it off and sent a screenshot of my message to the auction house telling them to stop bullying me or I would sue them, and they actually circled it on the screenshot and told me I was "abusive" and they deleted my account to cover it up. My jaw hit the floor. This company does not care about people at all- especially not customers. They will throw anyone under the buss. If ever there was a case of victim-blaming. I'm just not sure what to do. Shop somewhere else I guess. I spent thousands of dollars on that website with other auction houses. It's hard to understand how they can just throw me under the bus that way after I've been a good customer and I was the victim of such awful behavior by the seller on their website.
Sep 2, 2019
Liveauctioneers & Jasper52 treat their employees badly and unethically.
Liveauctioneers & Jasper52 (same company and same employees) HR department always neglects its employees. Yesterday, I came to know one of the organizational bad behavior and ethic with their employees. If an ex-employee put negative reviews about them on the internet they threat their existing employees to try to remove the bad reviews from old employee otherwise, they'll kick them out too. Yesterday, the same thing happened to me. I made a bad review last week and their existing employee contacted me and requested to please remove the negative review otherwise the client will end their contract. I removed their review but somehow, I have to mention it again because of behavior with me today as they didn't communicate with me. I am going to mention the manager name here. "Jessica Mizrachi"



I am hopeless about how they can manage their customers if they don't care about the employees. Having to work or make relation with these toxic and negative people daily - is draining, unpleasant, stressful, abuse and far from good.



Titles and desks don't make great managers or loyal employees.



I never recommend this company for having any business relationship where no respect is given to employees.



I have all the proofs and if someone wants to see let me know.