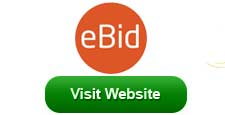 Yet again, we're coming at you with another review of a non-penny auction website. Since there are so many new online auctions coming on board, we're going to cover them all! This week, eBid. eBid.net in an online auction website most similar to eBay. In summary, lots of sellers and lots of buyers coming together to exchange both used and new goods in all product categories. If you're tired of the pay-to-bid auction website like Quibids and Dealdash, and want to an alternative to free auction websites like TopHatter, Bonanza, and eBay, give Ebid.net a try.
About eBid.net
eBid Coupon Codes: Not needed, bids are free

Free bids at sign-up: All bidding is free, pay only when you win.

Other ways to get free bids: N/a
eBid Address: 382 NE 191st St # 42012 , Miami, FL 33179-3899

Facebook: facebook.com/eBid.net

Twitter: twitter.com/ebid
Editor's eBid Review
eBid looks and feels a lot like eBay. In fact, the auction style mimics in every way that we can think except 1- the promise of lower fees than eBay offers. This of course only affects sellers but we felt the need to mention it. The auction items are always supplied by third parties, some items new, some used, etc. eBid really does seem like a good alternative to eBay from what we can see.
Please note that eBid.net is NOT a penny auction. That's right, NOT a penny auction. Bids are always free and the auction winner pays for the item and shipping.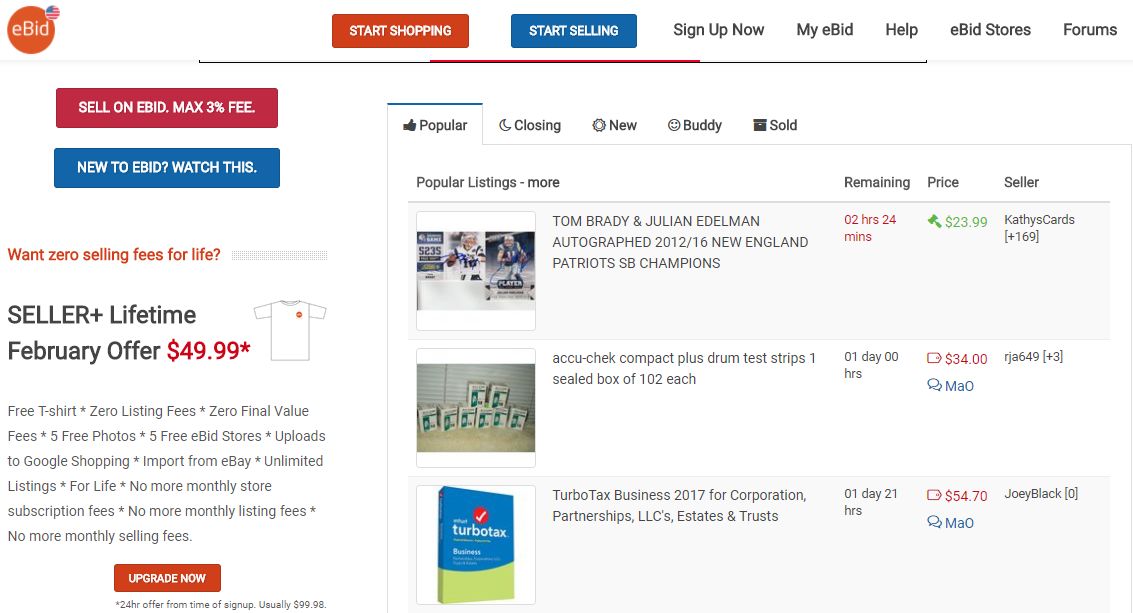 eBid.net Auction Features
eBid differs from penny auction websites in a few ways:
Free Auctions: All auctions are free to participate in. The consumer only pays when she/he wins.
Private Sellers: Items auctioned on eBid are done so by other vendors. So there are basically thousands of vendors auctioning products at all times.
High Auction Volume: The volume is really hard to quantify as a user but based on our research, auction volume in the USA may be similar to Quibids.
Common ebid.net Auctions
Antiques
Artwork
Used and new clothing
Jewelry
Sports memorabilia
Stamps
Collectibles
Seasonal items
Toys
Hobbies
Much more (hundreds of categories)
Bidding Tips on eBid
Shipping cost: Check the shipping price before bidding. In some cases, shipping is expensive
Shipping time: Watch the estimated shipping time. There seems to be a lot of international shipping here.
Bid minimums: Some items have high bid minimums (just like eBay)
eBid.net Shipping and Fees
eBid sellers set their own shipping rates and in some cases, are shipping from overseas so we caution bidders to view the shipping information (located at the bottom of each auction page) prior to bidding.
Is eBid a scam?
We don't think so. eBid has been operating worldwide for over a decade and online reviews for eBid are generally pretty positive.
eBid Pros and Cons
eBid Pros: Free to participate, a wide selection of auctions, fast paced and fun.
ebid Cons: Shipping can be timely and expensive
eBid FAQs
Here are some of the most commonly asked questions about the auction website, eBid.net.
Does eBid have an app for Android or IOS?
Penny Actionne
2018-03-16T13:18:43+00:00
Yes, eBid has mobile apps for both Android and IOS devices. The app allows both buyers and sellers to interact with the website, buy, and sell online via the eBid marketplace.
What fees does ebid have?
Penny Actionne
2018-03-16T13:15:29+00:00
On ebid.net, buyers pay for the product plus any shipping charges. The selling fees are paid by sellers and these come in two tiers.
Seller: Basic seller accounts pay 3% of the Auction Final Value
Seller+: Sellers who sell often on ebid can upgrade to a Seller+ which removes all percentage selling fees in exchange for a flat weekly/monthly/yearly fee. Upgrade Fee : 7 Day $1.99 | 30 Day $6.99 | 90 Day $16.99 | 365 Day $54.99 | Lifetime (special offer running) $99.98
eBid Bidder Ratings and Reviews
The reviews below were submitted by users, and solely reflect the views of the individuals who submitted them. Users were not compensated for leaving a review.
eBid
Average rating:
10 reviews
Jul 28, 2020
Gotta Work to Sell and Save
I love the fees and ease of eBid. I signed up for a lifetime seller. Migrated my eBay listings over at 5% less with free shipping over $150 USD and collected sales tax only in my Nexus State. I them jacked up my prices on eBay and added the above information about eBid, shipping and sales tax in my eBay listings. I also plastered the information on my eBay Store, my Seller Information and my business Facebook page. The sales started rolling in and they have been growing daily. When someone on eBay asked for perks on my listings, I send them to eBid. When I send an offer on eBay, I mention my eBid perks in the offer. When I sell a high dollar item on eBay and I get the buyers email, I send them a note and ask if they'd like to cancel the eBay order and go eBid. eBid isn't forcing me into "MisManaged Payments" and allows payment by check and money orders, saving me PayPal fees.
Mar 15, 2018
Not bad, ebid is fun
Not my favorite online bidding website but ebid seems to have a good variety of stuff, similar to ebay. Nice to try something new with ebids.
Mar 13, 2018
ebid is smaller than ebay
ebid is much smaller than ebay but is good to sell on.
Mar 8, 2018
ebidder is great
I'm a fan. Have bid on a few items and the transactions went well.
Mar 7, 2018
All Good, Except Ship fee
Shopping is fun and my watch came quickly. Shipping was expensive buy I'm already spoiled by Amazon!
Mar 5, 2018
Seller comment
As a seller, i like the lower fees compared to ebay. However, there seem to be a lot fewer buyers so I definitely don't sell as much volume on ebid as i do on ebay. Still, i make a bit more on each sale so it's worth the time to manage it.
Mar 2, 2018
Odd auctions
There's not a ton of auctions for stuff i want but i did find some strange home security items and got a mirror with hidden camera. Not typical stuff but fun to shop.
Mar 1, 2018
a few good deals on ebid
Bid on a few old baseball cards (yes i still collect baseball cards at my ripe old age). Everything worked out as expected.
Feb 28, 2018
ebid review
I like ebid for jewelry, haven't bougt too much else. Good to look at seller ratings first too.
Feb 27, 2018
Ebay, less stuff
ebid is a good backup option to ebay. Seems to have less stuff but still a lot to bid on.