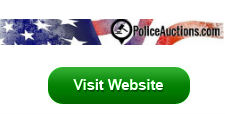 PoliceAuctions.com is not a penny auction website. It actually provides a few different services. In addition to hosting its own auctions it also provides information on a large number of government auctions. Why join? Over the years, the company has developed one of the most comprehensive government auction databases on the internet. They claim to have more listings and more accurate up-to-date government auction data than any other site on the web. PoliceAuctions.com also has a robust non-government auctions with $1 no reserve auctions, featuring items like certified diamond rings, collectibles like Mickey Mantle baseball cards, gold coins and many other exciting auction opportunities.
About PoliceAuctions.com
Other ways to get free bids: n/a

Police auctions coupons: Almost never offered.
PoliceAuctions.com Address: Serrf Corp. 3182 Pullman St., Costa Mesa, CA 92646

Phone Number: (714) 556-4900

Facebook: facebook.com/PoliceAuctions1

Twitter: twitter.com/policeauctions1

BBB Rating: A+ (Accredited)
PoliceAuctions.com Review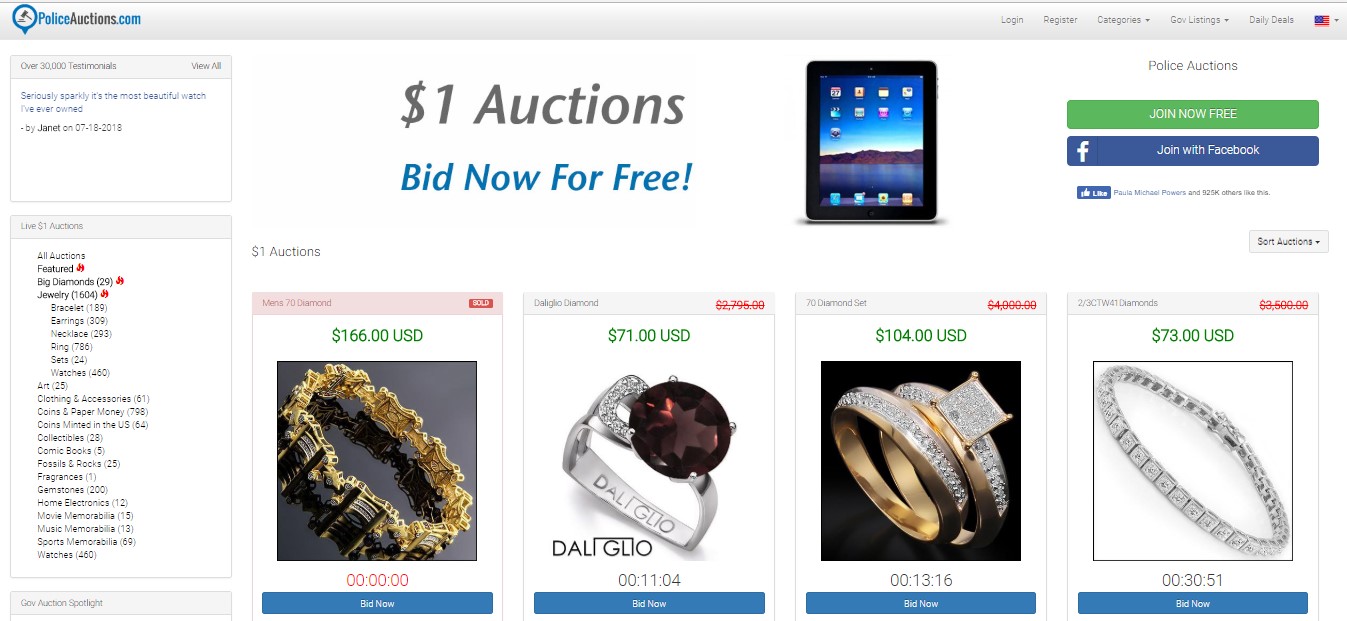 PoliceAuctions.com is not a penny auction website. It's an auction website. If you ever wanted to see a comprehensive list of all government auctions in one place, this is the website to try. With it's $1 auctions, PoliceAuctions.com brings a superior auction experience to its users. These no reserve auctions feature bids that update real-time, with no need to refresh the page, making for a more exciting and natural auction experience. This, combined with a manned support line, industry-leading disclosures, and friendly customer service, makes buying through PoliceAuctions.com fast, easy, and reliable. Since PoliceAuctions.com has all kinds of items, you'll have no trouble finding something you want to bid on.
PoliceAuction.com Features
Government Auction information (time, date, participation requirements) for thousands of yearly government auctions.
Bank foreclosure and pre-foreclosue listings
Tax-related and abandoned properties
Car, truck, and other automobile auctions
Boat auctions
Jewelry auctions
Listings in all 50 US states and throughout Canada
PoliceAuctions.com FAQ's
How much is an upgraded membership on PoliceAuctions.com
Penny Actionne
2018-07-19T16:17:02+00:00
The upgraded membership is $7.95 monthly. This is a monthly reoccurring charge which is billed automatically until you cancel your upgrade. Or, you can purchase a one year membership for $39.95. The one year membership is only half the price of paying for a monthly membership for an full year and does not automatically re-bill you at the end of your one year.
POLICE & FREE AUCTION COMPARISON TABLE
Website
Editor's Rating
Type
Best Features
Read Review
Penny Auction
Many auctions available from TV's to home appliances, featuring beginner auctions, free shipping, great reputation.
@dealdash
Review Coming Soon
E-commerce
Huge online marketplace, many perks with prime membership including 2-day free shipping
@amazon
Read Review
Free Auction
Largest marketplace to find online auctions, with many categories, offers buy it now and promotions
@ebay
Read Review
Free Auction,
E-commerce
Offers products across all categories, similar to eBay, less expensive for sellers so slightly lower prices.
@bonanza
Read Review
Penny Auction
Always free shipping. You can earn free bids by referring friends and family.
@centbids
Read Review
Free Auction
Many auctions are available in all categories, unique product offering.
@ebid
Read Review
Free Auction,
E-commerce
Offers vacation & travel auctions, excellent Deal of the Day section with unique buy it now offers.
@ubid
Read Review
Free Auction
Steal of the Day section, various categories with a

uthentic police seized, stolen, abandoned and surplus goods.

@propertyroom
Read Review
Penny Auction

Special events to win extra bids, prizes, or other incentives, shipping is free, refer-a-friend program to earn free bids.

@orangebidz
Read Review
Penny Auction, 
E-commerce
Free shipping on almost everything, auctions available in many categories laptops and tablets to purses and jewelry.
@quibids
Read Review
Free Auction,
E-commerce
Various product categories from jewelry to electronics featuring high paced auctions, with Buy It Now options.
@tophatter
Read Review
Penny Auction, 
E-commerce
Primabids store where you can buy it now, winners can re-sell products which they've won, gift cards, games, and many other products.
@primabids
Read Review
Penny Auction
Beginner Auctions, buy it auctions, offers auctions in many categories and discounts for new bidders.
@wellbid
Read Review
Free Auction
Offers government Auction information for thousands of yearly government auctions, bank foreclosure, car, truck, and other automobile auctions
@policeauctions
PoliceAuctions.com User Reviews
The reviews below were submitted by users, and solely reflect the views of the individuals who submitted them. Users were not compensated for leaving a review.
PoliceAuctions.com
Average rating:
6 reviews
Aug 7, 2018
Not of the worth or quality they say...not the cheapest, but close
The pieces are nice, some silver is real but the rest don't, bother they look perfect but wear them for two weeks and the gold , silver or rose gold disappears very sad because I love the cut!
Jul 30, 2018
COINS!
I won a bid for coins and the value of the coins are considerably more that what I won them for. The coins were mailed to me in a timely manner. I experienced no problem and will bid again.
Jul 27, 2018
Jewelry
I have bought some lovely jewelry off them. I don't think people read the whole description of the items they buy.
Jul 21, 2018
Be careful of what you buy some stuff is good and some not
I won 7 auctions mostly jewellery and a few coins. The Diamond ring I won was legit and worth between $500-600 dollars market value much more than what I paid even with the shipping. I also won a Swiss blue topaz diamond ring which was worth 3x more than what I paid for it. So now the bad news, the site advertised a 18k gold over sterling silver women's Amethyst bracelet and 14k gold diamond earrings. A professional appraiser said they were worthless costume jewellery. Said it was copper coated not gold! I did manage to slightly double my money because of the rings but was very dismayed about the rest. So be careful of what you buy, some stuff is legit and worth the money but some is crap and not as advertised. Educate yourself and be careful on what you bid on. Pics are of the earrings and bracelet. Thanks
Jul 20, 2018
Good Overall
have purchased four rings and two necklaces /for wife and daughter; all god not a problem real 10 carat gold ect. sterling silver necklace was nice. also emerald necklace which i have to get chkd.
Jul 20, 2018
Good & Fast!
good products and fast delivery!