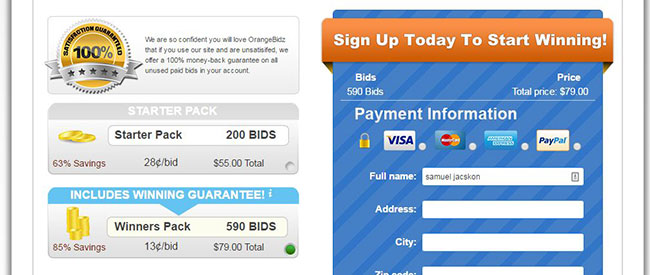 As time goes on, penny auctions all start to look the same in a few ways. Well, we'd like to bestow the honor of "It's about freakin time" today to OrangeBidz, who finally offers a winning guarantee to NEW BIDDERS.
How the OrangeBidz Winning Guarantee Works
Applies to new bidders only. Not a member, sign-up now.
Applies to select bid packs: Pay attention when purchasing your first bid package as the more expensive packages offer the guarantee.
1 Refill: The guarantee really means that, if you don't win and run out of bids, OrangeBidz will refill your bid just 1 time.
Likes and Dislikes
If we had to be critical (and we do), we much prefer HappyBidDay's guarantee to this one. Why? HappyBidDay actually offers unlimited refills to ensure that new bidders win at least 1 auction. While this can drive up the auction prices at times, it's a good deal for new bidders.
Have you taken advantage of OrangeBidz's Winning Guarantee? Comment below and let us know whether it helped you win!