Another review coming at you guys, this time we are reviewing uBid.com! uBid.com has been around for quite some time now just over 20 years, so its reputation online is strong as a source of auctions for everyday items from cell phone accessories to laptops. They don't require you put a credit card, deposit, or buy points or bids in order to view items, you can just search through the site and if you find something you like you can set up an account and start biding right away.
Many customer reviews about uBid show that they no longer have as many auctions as before and many of the items are fixed price, which is unfortunate if you are a real auction fan. The good thing about Ubid is that you can have confidence in what you buy since Ubid acquires its inventory from manufacturer or distributor surplus and only from trusted and certified sources. In this review, we are going to see all sides of uBid.com looking at the buying process and ways to save using their various selling formats.
About uBid.com
uBid Coupon Codes: None Available

Free bids at sign-up: bids are always free

Other ways to get free bids: bids are always free
uBid Address: 566 W Adams St Ste 250 Chicago, IL 60661-3659

Phone number: (630) 948-0394

Twitter: twitter.com/shopubid

BBB Rating: Not Accredited
Editor's uBid Review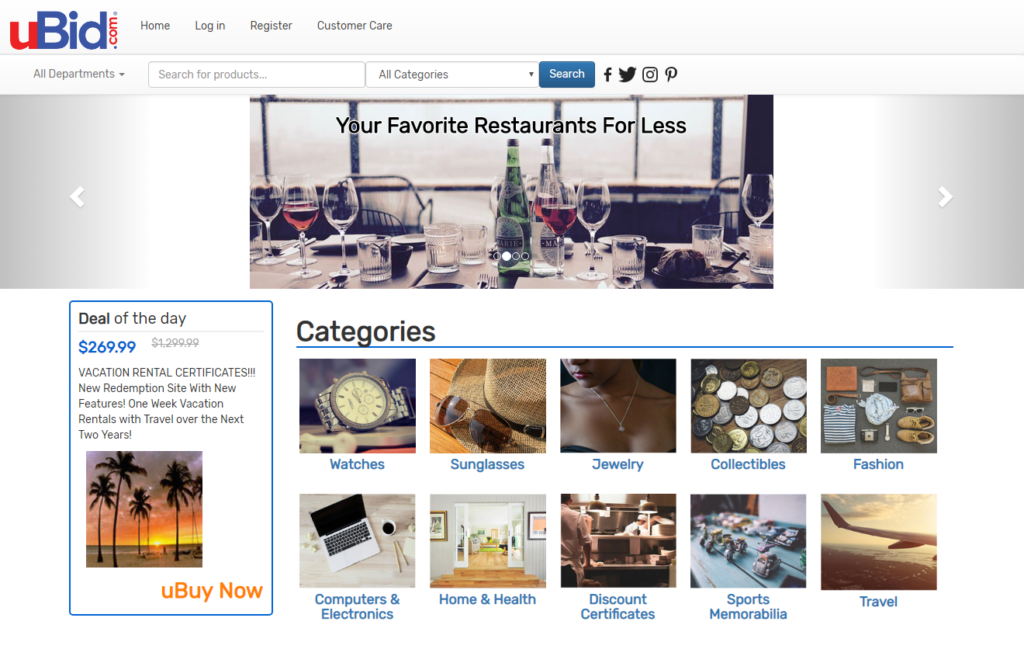 How do you know where to start? If you are a beginner at auctions, you might have difficulties understanding the process but for the veterans, uBid.com has many similarities to other auctions sites. Although uBid looks like it's very different than other auction sites, the main difference will be that members cannot post items for sale.
The site has both auction and also fixed-price listing, the products available are new, recertified as well as closeout products from in quite a few categories about over 25 different categories. Since the items are pretty much coming from vendors you would think you won't get a good deal from them but they have a "Deal of the Day" format which is really cool. When reviewing the "Deal of the Day" if found some pretty good savings, for example, they had these Ray-Ban sunglasses available and pretty much priced at a third of the price that they are on Amazon.

These deals are only available for 24 hr and you can see them by clicking on the "Deal of the Day" link they have on the top of the site. Again in order to explore you don't have to sign up for an account which I found to be pretty cool, just search the site free to see what kind of deal you can find. The only downside to this is that everyone else can too so you have to stay on top of things, the quantities are limited (first come first serve basis) alongside the offer end date.
Once you find an item you like it is very easy to sign up and bid or purchase all you have to do in order to register for an account with uBid is a very simple one-page sign-up. All in all, I was able to sign up very fast it took me about a minute or so in order to register my account. Once you finish filling out the registration page they will take you to the welcome screen you will have access to a personalized page and that will enable you to track the auctions, know your auction history and about the current winners. From there you can finish setting up all your information and put in your credit card information your billing address and update your shipping address if needed. They do accept a variety of payment methods but all the payment methods accepted are only via credit cards (Visa, Mastercard, American Express) unfortunately I do not see a PayPal as a form of payment. I am a huge fan of PayPal due to all the buyer protections in place for online purchases but I'm sure all credit card providers have protection just not sure which ones are the best. Maybe we will cover that in a later post…
uBid Auction Features
Deal of the Day

Simple site to use not too complicated all

Travel & vacation packages

Good description of the products and have product specification sections

Authentic SKU (Product Research)

Auto bid feature so you can set your max bid        
uBid Shipping and fees
While taking a good look at the listings it looks like most if not all the listings have some sort of shipping fee, even the travel and hotel packages. The price can range from $10 to $20 but that not inclusive of other fees which can vary based on the listing, for example, some of the hotel stays have a "Taxes/Service Charges". Some of the fees are granted the fact that you can win the listing for a pretty low amount, but again read carefully before you think you just won a five-night stay at a luxury boutique for $1. Although fees are not the best thing on the planet, they make sense in this case and other scenarios I'm sure it's not uBids choice as whomever the vendor is will be deciding on these things.
uBid FAQs
Here are some of the most commonly asked questions about the auction website, uBid.com.
Can I return an item for a refund?
Penny Actionne
2019-02-08T20:11:56+00:00
When you purchase a buy it now item the purchase is "final and non-refundable"
Subscribe Free
Free uBid Bidding Guide
Get our free 5-part series on bidding on uBid.com and the other top auction websites!
No SPAM, unsubscribe at any time.
Subscribe Free
Website
Editor's Rating
Type
Best Features
Read Review
Penny Auction
Many auctions available from TV's to home appliances, featuring beginner auctions, free shipping, great reputation.
@dealdash
Review Coming Soon
E-commerce
Huge online marketplace, many perks with prime membership including 2-day free shipping
@amazon
Read Review
Free Auction
Largest marketplace to find online auctions, with many categories, offers buy it now and promotions
@ebay
Read Review
Free Auction,
E-commerce
Offers products across all categories, similar to eBay, less expensive for sellers so slightly lower prices.
@bonanza
Read Review
Penny Auction
Always free shipping. You can earn free bids by referring friends and family.
@centbids
Read Review
Free Auction
Many auctions are available in all categories, unique product offering.
@ebid
Read Review
Free Auction,
E-commerce
Offers vacation & travel auctions, excellent Deal of the Day section with unique buy it now offers.
@ubid
Read Review
Free Auction
Steal of the Day section, various categories with a

uthentic police seized, stolen, abandoned and surplus goods.

@propertyroom
Read Review
Penny Auction

Special events to win extra bids, prizes, or other incentives, shipping is free, refer-a-friend program to earn free bids.

@orangebidz
Read Review
Penny Auction, 
E-commerce
Free shipping on almost everything, auctions available in many categories laptops and tablets to purses and jewelry.
@quibids
Read Review
Free Auction,
E-commerce
Various product categories from jewelry to electronics featuring high paced auctions, with Buy It Now options.
@tophatter
Read Review
Penny Auction, 
E-commerce
Primabids store where you can buy it now, winners can re-sell products which they've won, gift cards, games, and many other products.
@primabids
Read Review
Penny Auction
Beginner Auctions, buy it auctions, offers auctions in many categories and discounts for new bidders.
@wellbid
Read Review
Free Auction
Offers government Auction information for thousands of yearly government auctions, bank foreclosure, car, truck, and other automobile auctions
@policeauctions
uBid Bidder Ratings and Reviews
The reviews below were submitted by users, and solely reflect the views of the individuals who submitted them. Users were not compensated for leaving a review.
uBid
Average rating:
1 reviews
Mar 29, 2019
eBay Auctions with no bid, http://eshopfirst.com/
Have you checked other sites for ebay auctions for different countries and categories?

https://eshopfirst.com/

https://dealsauctions.com/