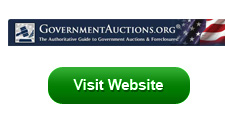 GovernmentAuctions.org is not a penny auction website. It's actually a website which provides information on a large number of government auctions. Why join? The government and other organizations often hold public auctions of assets which they have acquired through various means. In some cases, items are confiscated during arrests. In others, items are confiscated when taxes are not paid. Government Auctions is a website which aggregates many of these auctions into one place so that consumers can participate in these auctions.
About GovernmentAuctions.org
Competition: Low to Medium

Other ways to get free bids: n/a

Government auctions coupons: Almost never offered.
Government Auctions Address: Cyweb Holdings, Inc. 70 Middle Neck Rd., Suite 5, Great Neck, NY 11021 USA

Phone Number: (516) 773-9844

Facebook: facebook.com/GovernmentAuctions
Government Auctions Review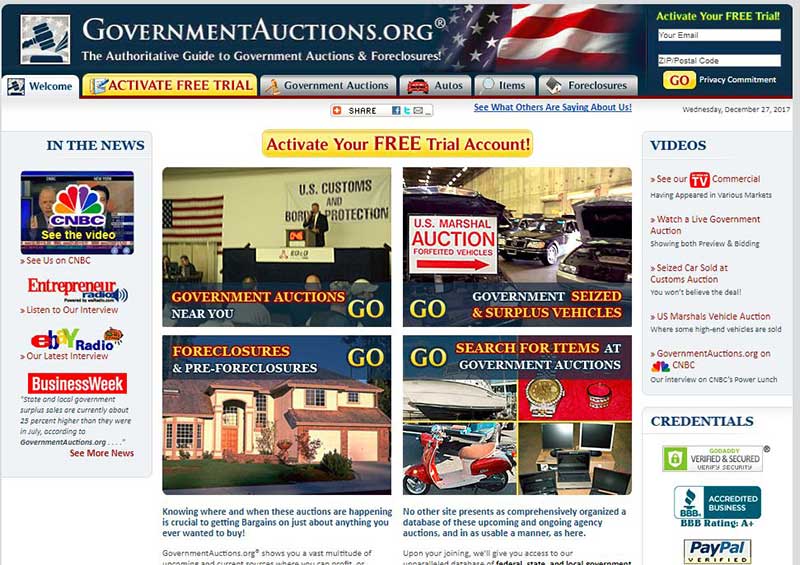 GovernmentAuctions.org is not an auction website. It's an auction information website. If you ever wanted to see a comprehensive list of all government auctions in one place, this is the website to try. Since government auctions all kinds of items, you'll find information on auctions including house auctions, car auctions, electronics auctions, and much more.
Government Auction Features
Auction information (time, date, participation requirements) for thousands of yearly government auctions.
Bank foreclosure and pre-foreclosue listings
Tax-related and abandoned properties
Car, truck, and other automobile auctions
Boat auctions
Jewelry auctions
Listings in all 50 US states and throughout Canada
GOVERNMENT & FREE AUCTION COMPARISON
Website
Editor's Rating
Type
Best Features
Read Review
Penny Auction
Many auctions available from TV's to home appliances, featuring beginner auctions, free shipping, great reputation.
@dealdash
Review Coming Soon
E-commerce
Huge online marketplace, many perks with prime membership including 2-day free shipping
@amazon
Read Review
Free Auction
Largest marketplace to find online auctions, with many categories, offers buy it now and promotions
@ebay
Read Review
Free Auction,
E-commerce
Offers products across all categories, similar to eBay, less expensive for sellers so slightly lower prices.
@bonanza
Read Review
Penny Auction
Always free shipping. You can earn free bids by referring friends and family.
@centbids
Read Review
Free Auction
Many auctions are available in all categories, unique product offering.
@ebid
Read Review
Free Auction,
E-commerce
Offers vacation & travel auctions, excellent Deal of the Day section with unique buy it now offers.
@ubid
Read Review
Free Auction
Steal of the Day section, various categories with a

uthentic police seized, stolen, abandoned and surplus goods.

@propertyroom
Read Review
Penny Auction

Special events to win extra bids, prizes, or other incentives, shipping is free, refer-a-friend program to earn free bids.

@orangebidz
Read Review
Penny Auction, 
E-commerce
Free shipping on almost everything, auctions available in many categories laptops and tablets to purses and jewelry.
@quibids
Read Review
Free Auction,
E-commerce
Various product categories from jewelry to electronics featuring high paced auctions, with Buy It Now options.
@tophatter
Read Review
Penny Auction, 
E-commerce
Primabids store where you can buy it now, winners can re-sell products which they've won, gift cards, games, and many other products.
@primabids
Read Review
Penny Auction
Beginner Auctions, buy it auctions, offers auctions in many categories and discounts for new bidders.
@wellbid
Read Review
Free Auction
Offers government Auction information for thousands of yearly government auctions, bank foreclosure, car, truck, and other automobile auctions
@policeauctions
GovernmentAuctions.org User Reviews
The reviews below were submitted by users, and solely reflect the views of the individuals who submitted them. Users were not compensated for leaving a review.
Government Auctions
Average rating:
1 reviews
Mar 8, 2018
Info, not an auction
I think this was an auction website at first. It's actually a website which lists all the govt auctions. should have read the review first i guess