We have a really great review in store for you guys today, and this one is about gold! GoldIQ.com to be exact and this website is an up and coming site with great gold auctions available. They have multiple auction formats which I will cover with you and also some pretty interesting options when you win auctions such as where you can choose to "Take My Profits". It's always exciting to think of opportunities where you can make profits but add that together with penny auctions and its a thrill. I'll give you some overall thoughts on GoldIQ, its auction formats, and website exploration. Keep reading below…
About GoldIQ
Coupon Codes: Promotions on Tokens

Other ways to get free bids: Seat auctions bids are free
GoldIQ Address: 4500 Steiner Ranch Blvd Suite 1510 Austin, TX 78732

Phone number: 512-516-9977

Facebook: facebook.com/GoldIQ

Twitter: twitter.com/Ndotauction

BBB Rating: Not Available
Editor's GoldIQ Review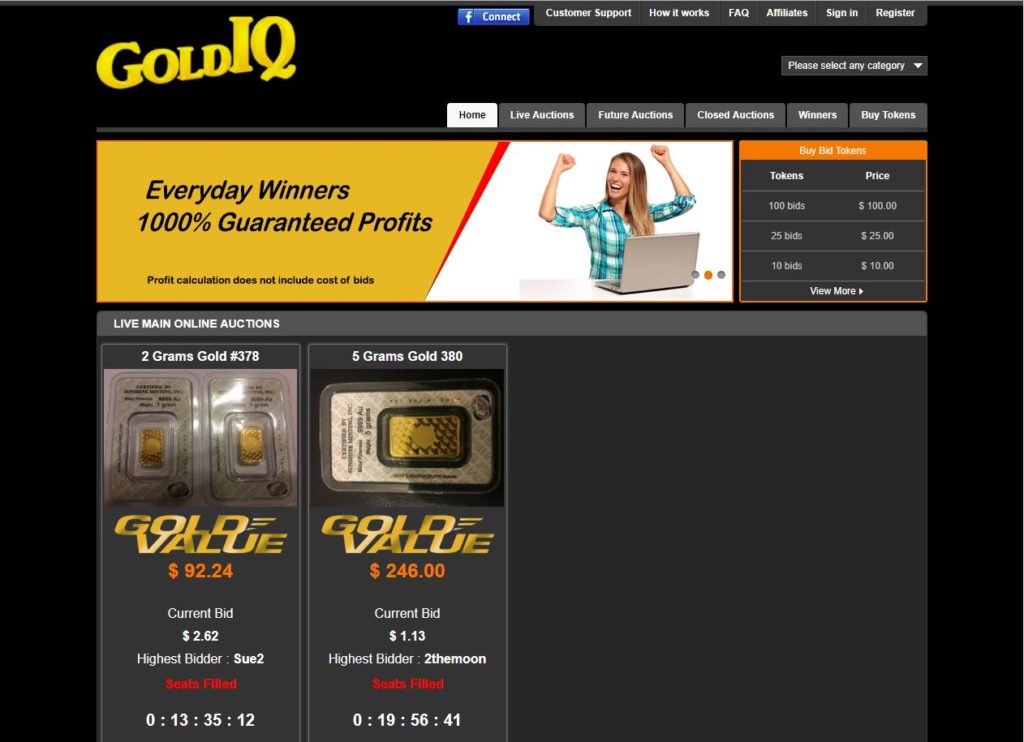 GoldIQ is a multiple format gold auctioning site and although you can still bid on gold or gold jewelry on websites like eBay and Police Auctions, the difference is that at GoldIQ offers only gold auctions. Bidding here gives you a chance to not just win an auction and save some money but make profits as well. If there's anything us auction lovers like, saving and making money would be it.
First, we'll look at the homepage and I really like the format for this website it is very unique, very simple to use. Finding what you're looking for is not as involved as other auction websites. The pages you need are the "Live Auctions", "Future Auctions" and "Buy Tokens" to start getting familiar with the site. Once you're on the "Live Auctions" page you will immediately see all the current listings. Currently, I only see two live listings which is kind of expected since it a newer auction site but nonetheless, I want to see as many auctions as possible. One cool thing is that there are not that many people in the "seats" and I'll explain this later on, but it looks like a great chance to possibly win an auction since the bidding competition isn't too much.
Moving on the actual bidding process and unfortunately, I didn't get a chance to see the full bidding process as the seats were filled on the current listings but taking a look at the auction page. It looks very clear and easy to navigate. You can see the bid history, the highest bidder and some more details like the retail price of the gold and your savings for the current bid price.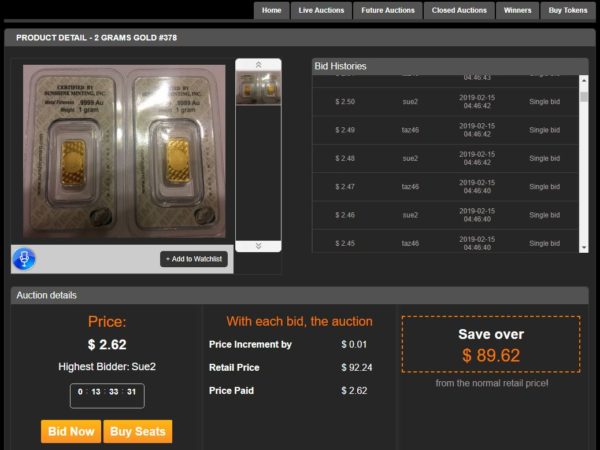 There are two formats- 1) one is a penny auction format and 2) seat format. There is a big difference between the two, and it all depends on how risky you feel. Pretty much the penny auction is the norm where you pay to bid but they are very clear about what you will pay for bids. The following info from GoldIQ's website states "Bids are $.60 – $.85 each and can be purchased in several different packages starting at $12.00 for 15 bids."
Seat auctions are the other format and how it works is you pay using tokens to get a seat in the auction and bids are free. Currently, all you have to pay is 1$ per token, so to grab a seat can vary token wise but the current range showing is between $1-$5 depending on the auction amount. The best part about seat auctions is that bids are free once you have a seat so you can bid away. Both auction types have their pros and cons.
"Take My Profits"
On GoldIQ, once you've won an auction there is an option called "Take My Profits" which is one of the coolest things I've seen offered on an auction site.
Essentially the gold won from the auction can be sold on your behalf and the proceeds get sent to you via a check. In the how it works section there's a section where they breakdown how winning $10,000 in gold can net you a check of about $9099.45! This is really exciting to see, it makes me want to jump right in and place some bids. Just looking at an auctions details pretty much gives you an idea of how much profit you can make, if you win of course.

Overall
It's a new auction site and one thing I thought was cool was the winner's section where you can see the list of recent winners, with some pretty awesome auctions. As I mentioned earlier one of the only things I did notice was not too great was the limited amount of auctions but they at least have a section showing the auctions starting soon like now in a couple of hours you can see there are three about to begin.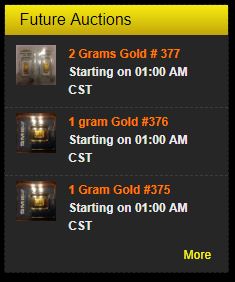 This is a growing gold auction website and winning looks like a real possibility and the website provides a good sense of transparency where you can view winners and previously closed auctions. Many unique features such as the "Take My Profit" option make it an auction site worth taking a look at. Good luck!
GoldIQ FAQs
Here are some of the most commonly asked questions about the auction website, GoldIQ.com.
How do I bid on a listing?
Penny Actionne
2019-02-26T16:52:33+00:00
Register to sign up, buy bids and start bidding on auctions.
Subscribe Free
Free Bidding Guide
Get our free 5-part series on bidding strategy for top auction websites!
No SPAM, unsubscribe at any time.
Subscribe Free
AUCTIONS WHERE YOU CAN FIND GOLD & JEWELRY
Website
Editor's Rating
Type
Best Features
Read Review
Penny Auction
Many auctions available from TV's to home appliances, featuring beginner auctions, free shipping, great reputation.
@dealdash
Review Coming Soon
E-commerce
Huge online marketplace, many perks with prime membership including 2-day free shipping
@amazon
Read Review
Free Auction
Largest marketplace to find online auctions, with many categories, offers buy it now and promotions
@ebay
Read Review
Free Auction,
E-commerce
Offers products across all categories, similar to eBay, less expensive for sellers so slightly lower prices.
@bonanza
Read Review
Penny Auction
Always free shipping. You can earn free bids by referring friends and family.
@centbids
Read Review
Free Auction
Many auctions are available in all categories, unique product offering.
@ebid
Read Review
Free Auction,
E-commerce
Offers vacation & travel auctions, excellent Deal of the Day section with unique buy it now offers.
@ubid
Read Review
Free Auction
Steal of the Day section, various categories with a

uthentic police seized, stolen, abandoned and surplus goods.

@propertyroom
Read Review
Penny Auction

Special events to win extra bids, prizes, or other incentives, shipping is free, refer-a-friend program to earn free bids.

@orangebidz
Read Review
Penny Auction, 
E-commerce
Free shipping on almost everything, auctions available in many categories laptops and tablets to purses and jewelry.
@quibids
Read Review
Free Auction,
E-commerce
Various product categories from jewelry to electronics featuring high paced auctions, with Buy It Now options.
@tophatter
Read Review
Penny Auction, 
E-commerce
Primabids store where you can buy it now, winners can re-sell products which they've won, gift cards, games, and many other products.
@primabids
Read Review
Penny Auction
Beginner Auctions, buy it auctions, offers auctions in many categories and discounts for new bidders.
@wellbid
Read Review
Free Auction
Offers government Auction information for thousands of yearly government auctions, bank foreclosure, car, truck, and other automobile auctions
@policeauctions
GoldIQ Bidder Ratings and Reviews
GoldIQ
Average rating:
7 reviews
Mar 5, 2019
goldIQ is a great auction site for gold.I have told a lot of people about it also and they also love it.
Feb 20, 2019
WINNING GOLD on GoldIQ,Com
Ive Won 9 in 2 weeks . Ive spent .75 Cents on of Pocket come give it a try you get 2 Free Tokens WHAT YOU WAITING FOR?
Feb 19, 2019
Best auction site by far
I love GoldIQ! They are so easy and stand out above the rest. It's great having the option to do the penny auctions or not worry about bidding in the seat auctions. Most sites want to charge for bids, which can be frustrating if you don't win! Obviously, every auction site is aiming to make money, that's what businesses do. However, GoldIQ feels like an everybody wins structure. You can bid for free and if you don't win, you only lose $1 and can hope into other auctions without being angry on spending a lot of money on bids for some random product. Instead, I can get cash immediately!
Feb 19, 2019
Absolutely love this site. Ive received 14 checks from them already and i have to admit its very addictive.
Feb 19, 2019
awesome very easy to do best auction site out here.very quick payments.
Feb 19, 2019
Gold IQ- Love It
I've played several auctions and won 3. I chose to sell the gold to their approved broker and got a check a few days later. I show several friend and we fight it out on auction. A lot of fun. Well worth the $1 entry even if I don't win.
Feb 18, 2019
Good place to bid
Love your site lots of good auctions