Quibids recently released a new type of auction called "Locked Auctions". Today, we want to review the basics of how Locked Auctions work and then talk about other penny auction websites which offer similar auctions features.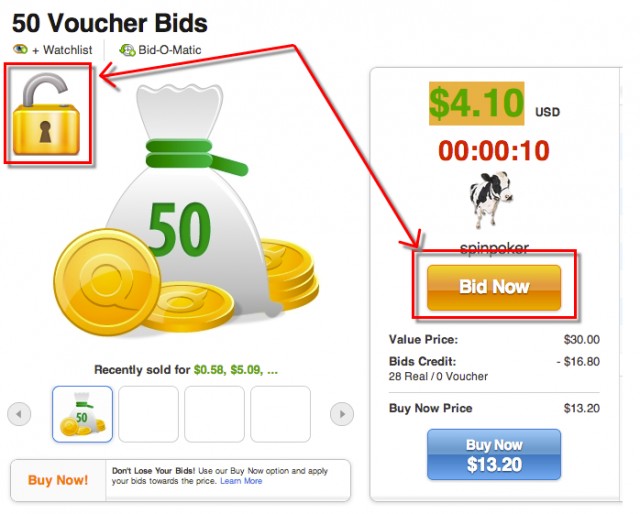 What are Lock Auctions (Penny Auctions) on Quibids?
On Quibids.com, some auctions become Locked after a certain number of bids. This means that no new bidders (sometimes called "jumpers") can enter the auction. The advantage for bidders already in the auction is that competition toward the end of the auctions can only go down as no new bidders are allowed and a portion of existing bidders will inevitably drop off.
According to Quibids, there is a formula in place to determine when auctions lock (based on the number of bidders, frequency of bidding, etc.).
Benefits of Quibids Locked Auctions
As we see it, there are a few advantages (especially for new bidders) to participating in Quibids locked auctions.
Less competition: Fewer bidders who can enter toward the tail-end of the auction.
Avoid spoilers (aka jumpers): Some advanced bidders who rely on the Spoiler Strategy will be locked out of these auctions if they do not place bids early on.
Disadvantages of Quibids Locked Auctions
There are a few disadvantages to this type of penny auction as well.
More-active bidding early on: More advanced bidders will recognize locked auctions and place the minimum number of bids early on, just so they can come in late and partake.
Higher auction closing prices: As more bidders want to get in early, it will drive the final penny auction closing price up.
Other Penny Auctions Offer Similar Auction Types
For more information on Quibids and the various auction types, please read our full review of Quibids.com.