Editor's Note: HappyBidDay no longer seems to be operating. Comment below if you can confirm.
HappyBidDay is a mid-sized penny auction website and has been in business since 2010. While HappyBidday.com is not as large as Quibids, Beezid or DealDash, HappyBidDay is considered to be a very established website which offers a good variety of auctions, fairly-fast shipping and an overall good reputation with bidders. Please continue reading to learn more about bidding on HappyBidDay. If you have or do currently bid there, we'd really appreciate you leaving a HappyBidDay review at the bottom of the page.
Disclaimer: This review was written by an independent third party. For any comments or factual corrections, please email info@bestpennyauctionsites.org.
About HappyBidDay.com
Website: www.HappyBidDay.com

Competition: Medium

Coupon Codes: 200% Bids (no coupon needed)

Free Sign-up Bids: Unlimited bids until you win.

Free bids: Rewards program, facebook/twitter, periodic promotions
Address: 113 Barksdale Professional Center, Newark, DE 19711

Phone number: (302) 294-0879

Facebook: facebook.com/happybidday

Twitter: twitter.com/happybidday
HappyBidDay Reviews
HappyBidDay is a good penny auction for both beginners and experienced bidders. For beginners, HappyBidDay offers Happy Auctions (free to participate) and Starter Auctions (reserved for new bidders). Both of these penny auctions help new bidders become acquainted with the website and allow them to gain valuable bidding experiences before getting into some of the more competitive auctions for high-end products. Another feature of HappyBidDay which benefits new bidders is Win Limits. Win Limits put restrictions on "Power Bidders" as to how much they can win in any given day or week. This makes it easier for new bidders to be competitive.
If you're an experienced penny auction bidder, you'll be glad to know that HappyBidDay offers a decent number of high end auctions (iPads, TVs, laptops, gold, silver, etc.). Resellers (bidders who earn money winning auctions and selling their winnings) and other power bidders (experienced, high volume bidders) have a good selection of quality auctions to compete for.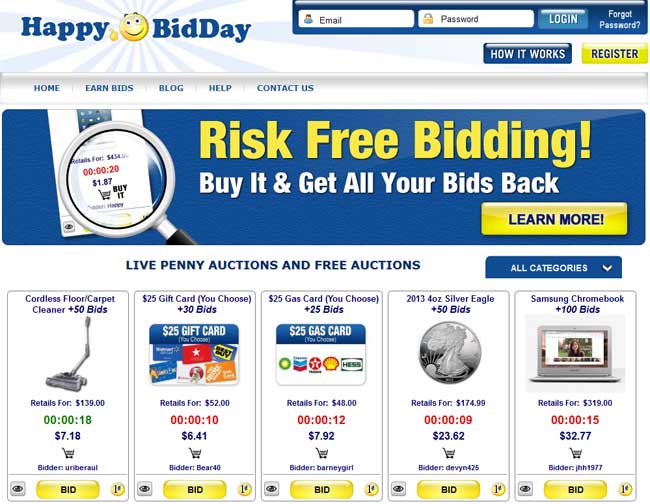 Common HappyBidDay Auction Items
Precious metals: Gold, Silver and Jewelry
Tablets and laptops: iPads, Galaxy Tablets, Acer Computers, iPods, MP3 players, etc.
Gift cards: All denominations from Amazon, Walmart, gas cards, fast food, etc.
Small home appliances: Blenders, toasters,
Gadgets: Remote controlled toys, iPod speakers, etc.
Video games and video game consoles
Toys, remote control vehicles, etc.
GPS systems
Musical instrucments
Overall good variety of penny auction items
Types of HappyBidDay Penny Auctions
HappyBidDay offers several different types of options with different rules to be aware of.
| Symbol | Auction Description & Commentary |
| --- | --- |
| | Buy It Auctions: Most HappyBidDay auctions offer the 'Buy It' feature which allows auction losers to purchase the auction item at retail and receive all their lost bids back. Great feature. |
| | Starter Auctions: Low competition auctions reserved for new users who have not yet won an auction. This is great if you're trying HappyBidDay for the first time. |
| | Rookie Auctions: Rookie auctions are for bidders who have fewer than 25 wins. These are nice as 'power bidders' are kept out to make winning easier. |
| | Capped Auctions: Penny auctions which limit the closing price of the action. For example, an auctions capped at $5 will never cost the winner more than $5 unlike other auctions where the closing price increases without limits. |
| | Snappy Auctions: We're not big fans of this one. But, snappy auctions are auctions where each 'bid' actually costs 3 bids. Seems like a tricky way to deplete our bids so play with caution. |
| | VIB Auctions: These auctions block new bidders from entering at an unknown point in time. These are great as it prevents bidders from coming in at the last minute and taking over the auction. |
| | Bids Back Auctions: Interesting auction feature where the winner gets 25% of their bids back. This tends to make the auction more competitve and drive prices up but works great fot the winner. |
HappyBidDay Shipping and Fees
HappyBidDay charges for shipping and processing. Fees range based on the size of the product and shipping location. You can find the shipping fees for each auction at the bottom of each auction page.

Is HappyBidDay a Scam?
We don't think so. HappyBidDay has a good reputation in the industry and is not known for executing any shady practices that we know of. They have been in the industry for a long time.
HappyBidDay Pros and Cons
HappyBidDay Pros: Good balance between the # of penny auctions and the amount of competition, plenty of chances to win free bids, fast shipping, responsive customer service
HappyBidDay Cons: Shipping is not free (what can I say, we're picky!). HappyBidDay has both shipping and processing fees which are clearly visible on all auction pages.
HappyBidDay User Ratings and Reviews
The reviews below were submitted by users, and solely reflect the views of the individuals who submitted them. Users were not compensated for leaving a review.
HappyBidDay
Average rating:
13 reviews
Sep 29, 2017
Soured Already
I had previously had a good experience with HappyBidday (a year or so past) but after a long break I am not so sure things have gotten better. Is it possible there are "ringers" in the playing field? As Donna From the March 29, 2017 review states "The same people/person wins the $100 or Reserve auctions regardless the cost. Even the $25 cards are being won by the same people/person. I have actually seen some bid over the cost of the prize offered and they still lose the "power" bidder.

I think I will use up my bids and then be done with un'HappyBidday'.
Mar 29, 2017
Penny Bidder
I have been bidding for about a year on Happy Bidday. It is a love/hate relationship. I have one many items up to $100. There are certain auctions the same persons bids on every rime and wins no matter the amount of bids it takes to win. There is one person who wins 90% of Reserve auctions. I just don't bother. There are the same 5 or 6 power bidders who win most all the over $100 auctions. It is getting harder to win any auction and actually get a deal. Most if you add the cost of your bids and the cost you must pay you win no deals. It is a rarity. I do bid but if i see certain names i do not bother. I have come to the conclusion there are robots on this site because they will power bid on several auctions at the same time and run the price way up then disappear, hardly ever winning. The same 5 or 6 win all the big auctions. But the worst thing about Happy Bidday most of their auctions do not have a set amount that does not allow new bidders. So you could be battling for an auction and it be over $30 and you a couple 1000 bids in and a new bidder starts. That is very wrong. But if you just like to win then bid on the smaller auctions and $25 gift cards and you have a good chance to win.
Feb 21, 2017
A Beginner's View
I had no experience with penny auctions until last week. I decided to try HappyBidDay because unlike other sites they gave me 5 free bids without requiring me to purchase any. These promo bids are best used on starter auctions featuring low value items locked only to users who have never won an auction. (Once you win, any of your 5 promo bids that remain will disappear.) With my first bid I was able to win a little copper round collectible and 30 bids for $1.02. (You can find more useful items, such as in-ear headphones or $10 gift cards. However the gift cards I've seen for starter bids only come with 10 bids and you probably want at least 20 unless you're planning to purchase a bid pack.) Then I got lucky on a $10 Amazon gift card and 50 bids for $1.13, and today I won a Choose One auction and selected a LeapFrog laptop for $1.49.

The biggest drawback to HappyBidDay is shipping and processing. I don't recommend bidding on anything until you've looked at how much it will cost to receive your item. Also, the shipping price seems to be tied to item value in some cases. Don't tell me a 5 oz silver bar costs $9.99 to ship! It does come with 150 bids, though, so the retail value is high and I think the shipping is tied to that.

Bid carefully, because there are serious power bidders and not just on the big ticket items like iPads. I'd watch some auctions after you win your starter auction because you'll see the same bidders come up a lot.

On the other hand, don't feel confined to Rookie Auctions (less than 25 wins). My second and third auction wins came from the regular, open-to-all auctions. Just start with some modest items and remember, like any sale, it's not a good deal if you don't have any use for it.
Sep 27, 2016
Love This Site
Winning products is fun and getting them delivered in a few days is awesome. This site has great features and they care about their customers having a good experience.
May 17, 2016
Mostly Love, Kinda dont
Overall, a pretty fair penny auction. I love buy it auctions, happy auctions and think the return policy is fair. I'm not a big fan of reserve auctions (i dont bid there).
Oct 9, 2015
Great Site
I have been bidding on penny auction sites for over 5 years and many have come and gone. HappyBidDay has been around for over 5 years and I have had great success winning on their site. Their customer service is good and my products are delivered within days. Can't say that about the others
Oct 9, 2015
its A SCAM
IT IS A SCAM, DONT TRUST THIS COMPANY
Feb 15, 2015
Seems like a scam you buy bids and it seems to go foever uses all your bid bucks you buy the bid says 20 seconds you think it's done and it adds 20 more seconds until you have nothing left
Sep 1, 2014
addicting
Very addicting u will get hooked quickly and eventually get angry from losing
May 12, 2014
Happy Bid Day Review
The site is easy to understand. Seem to be a lot of the same bidders winning the high end items. So if you are a new bidder stay away for high end items. I have one several small items. Best part of the site is free to bid auctions for bids, but this does make it harder to win with some many people with lots of bids.