Which are the best penny auctions for free bids? That is, which penny auctions are the most gracious when it comes to dulling out free bids?
First, let's talk about why there's no such thing as 'free', especially in the competitive world of penny auction bidding. While many sites give out free bids in one way or another, these giveaways usually benefit the auctions more than you might think. Most free penny auction bid programs are designed to draw back bidders, the same way that casinos do to draw back whales. We recommend taking advantage of free bids, but not basing your entire bidding strategy behind it.
Below, we've compiled a list of different penny auctions which give away free bids on a regular basis. Please keep in mind though that free bids don't do you any good without strategy.
DealDash Free Bids
DealDash offers tons of volume in terms of the number of daily penny auctions. We recently were told that DealDash offers 100 free bids to new bidders who sign up with the coupon code below. There are other ways to earn free bids on the DealDash penny auction website which we'll cover in future blog posts. Good luck!
Coupon code for 100 free bids: best-penny
Quibids Free Bids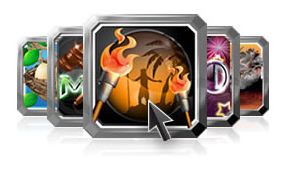 Quibids also offers free bids, but only if you're a paying member. That's right, once you purchase a bid package, you're eligible to earn badges (which include free bids) for things like playing in auctions, winning auctions, losing auctions, not playing auctions and any other excuses they can use to email you and invite you back to play more. At first, we didn't really like the badge system but it seems like they more you play, the more free bids you get. While Quibids isn't the most giving penny auctions (as far as free stuff goes), it's still a pretty good program.
Top Hatter Free Bids
TopHatter is NOT a penny auction website but 1) is always free to bid, 2) has auctions which close very low, and 3) has a very high volume of auctions. If you need a break from the penny auction scene, check out TopHatter for some deals. Free to sign-up and bid, always.
BidCasters Free Bids
BidCasters.com is a new penny auction offering 10 free bids at sign-up, no coupon needed.
HappyBidDay Free Bids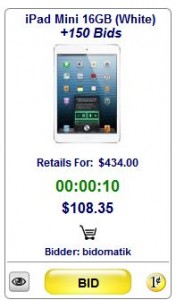 HappyBidDay has two types of auctions, Happy Auctions and Penny Auctions. The Happy Auctions are their free-to-participate auctions which offer small-ticket items and bid packages at a discount. To play, you use Happy Bids which are earned by signing-up, logging in daily, on your birthday, for inviting friends, etc. HappyBidDay gives a lot of these free bids away, although the auctions which they can be used on aren't great.
As far as free penny bids goes, HappyBidDay offers these as well. We've been on their email list for over a year and find that, about every 1-2 months, they deposit 20 or more free bids for penny auctions into our account. They also give away penny auction bids when you win other penny auctions. That's right, most penny auctions come with free bids attached which is a great value-add to winning an auction.
Sign-up and try HappyBidDay.
Primabids Free Bids
Primabid.com is a new penny auction website which is offering 5 free bids for sign-up, plus a guaranteed first win. We haven't seen a lot of user reviews on this penny auction website (because it's brand new) but it may be worth a shot with 5 free bids at sign-up.
Zbiddy Free Bids (Update: No longer in business)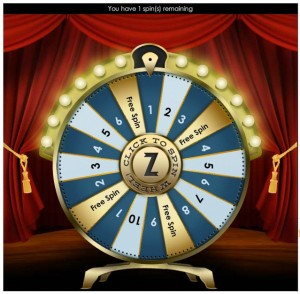 Zbiddy gives away the most free bids of any penny auction that we know of. More importantly, Zbiddy gives away free bids whether or not you are a paying member (unlike Quibids and some others). Users can log-in to Zbiddy on a daily basis and take a spin of the Zwheel. The Zwheel lets you win anywhere from 1-10 bids (usually), one time each day.
These free bids are great compliments to your bid account but won't likely be enough to win anything significant (or anything at all) on Zbiddy. However, taking a free spin is well worth the few minutes it takes to log in each day.
Sign-up on Zbiddy and give it a try.