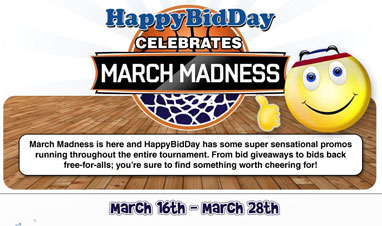 HappyBidDay kicks off March Madness this week with their annual March Madness bidding events which take place from March 16th to March 28th.
So what's it all about?
Discounted bid packages throughout the event
Sweet 16 Started Auction – Starter auctions are HappyBidDay's beginner only auctions. While they usually include lower-ticket items, HappyBidDay is upping the ante on these auctions. Great for new bidders!
Free Bids – Log in throughout the celebration for free bids, just for being a member.
Rebound Rally – Winners get 25% of their bids back on select auctions and days.
No foul, you're a champ – More VIB auctions, happybidday's 'no jumper' auctions where you gotta get in early or not at all.
Capped auctions – More capped auctions
Free shipping! Well, on some items on the 28th.
Sign-up and get all the details on HappyBidDay.