What are the best penny auctions for gift cards?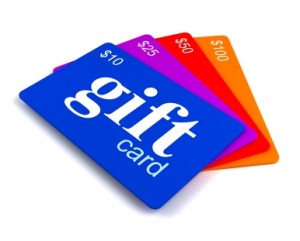 We have always recommended bidding on gift card penny auctions over all other types of products for a few reasons. First, they are as good as cash if you can use them in your day-to-day life (buying gas, groceries, going out to eat, etc.). Additionally, the lower denomination gift card penny auctions are often the least-competitive and can be won most-consistently.
There are a couple different types of gift card penny auction bidders. First, there are penny auction bidders who bid in hopes of getting a good deal or saving on something they will use anyways, such as a gift card. The other type of gift card bidder bids to get gift cards at a discount, only to resell the gift cards for a profit. Even though these two types of bidders have different reasons to bid on gift cards, both have the same goal and that's to acquire gift cards at the best possible price, using the fewest bids.
What are the Best Gift Card Penny Auctions?
Almost all penny auction sites offer gift cards. From the perspective of the penny auction, gift cards are really easy to inventory and ship so it's a pretty appealing product to put up for auction. It just so-happens that gift cards are also very popular among bidders who re-sell and bidders who just bid for a good deal. We feel that good gift card and gift certificate penny auctions satisfy a few different requirements.
"Your Pick" Gift Card Auctions
This type of penny auction for gift cards is one where the winning bidder is able to choose from a variety of gift card. For example, the auction is set for a $25 Gas Gift Card, and the winner can choose the gas station. Or, the auction may be set for a $25 Restaurant Gift Card and the winner can choose from which restaurant. The main advantage to bidding on this type of auction is quick simply that you get to choose the gift card you want. Quibids and HappyBidDay both consistently offer gift card choices.
"Price Limit" Penny Auctions
When a penny auction has a price limit, it means that the winner will, at most, pay a pre-set price. This is great for gift card auctions because it controls the total owed by the winner when the auction ends. When the price is not preset, the winner can sometimes end up paying more that retail for the gift card (when the cost of bids is calculated-in). While this can happen in either case, the price limit makes it easier to figure out when to stop bidding.
"Buy It Now" Auctions
The Buy it Now feature allows auction losers to purchase any auction item and, in return, get a bid refund or a monetary credit toward the purchase price of the gift card auction. We recommend only bidding on But It Now gift card penny auctions because it mitigates your bidding risk. If you lose, you'll still end up paying a bit more than retail (shipping costs, etc.), but at least you won't be out big bucks with nothing to show. Quibids and DealDash are particularly good for this because shipping is free so the risk is really low.
Overall, we recommend sticking with the penny auctions who offer free shipping, buy it now and price-capped gift card penny auctions as your chance of losing money is the smallest. The competition-level of each will always play a big role in how successful your bidding is, but these features will definitely hedge your risks.