For years, the most popular penny auction website have offered customer rewards programs which usually go something like this:
Refer a friend
Your friend spends money
You get free bids
It's not a bad deal. After all, we all want more bids for less money to improve our ability to be competitive in the penny auction space.
HappyBidDay is Raising the Bar
We recently noticed a new page on the HappyBidDay website which promotes the new rewards program. In the new program, HappyBidDay is giving customers $30 for referring a friend who purchases a bid package! In addition to your commission, you friend will get an extra 200 bids. To say the least, we've never seen this before and anticipate that a lot of active HappyBidDay bidders will take part in the program.
How it Works
Refer a friend
Your friend buys a bid package
You get $30
Your friend gets 200 extra bids
How can you take advantage?
Well, first you have to sign-up for HappyBidDay. Once you do that, head over to the rewards section of their website to get your link for referring friends.
Have you taken part in HappyBidDay's new referral program? If so, comment below and let us know how it went.
Screen Capture from HappyBidDay.com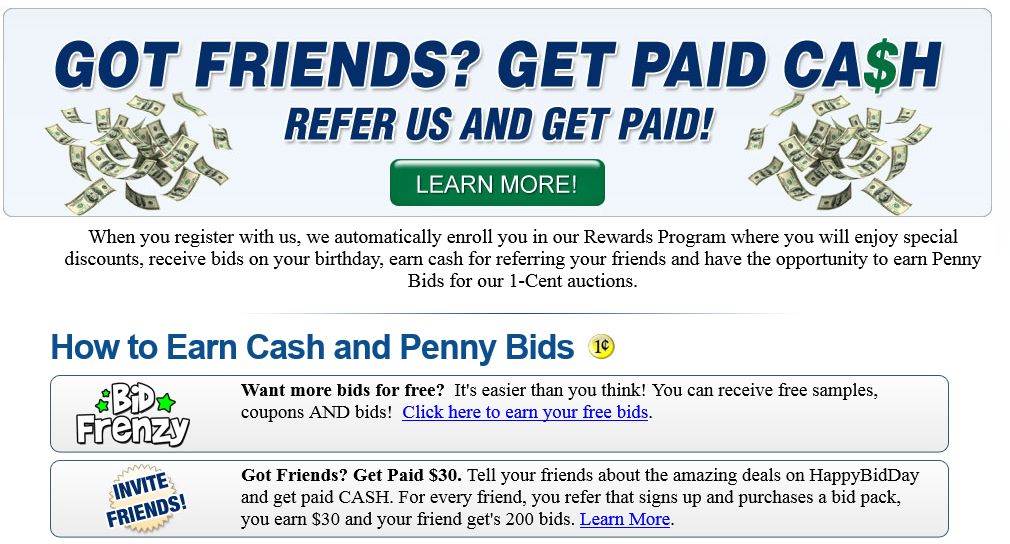 In case you haven't read our detailed HappyBidDay review, here are some other features we like about HappyBidDay auctions:
Buy it Auctions
Guaranteed first win
Good balance between the # of penny auctions and the amount of competition
Plenty of chances to win free bids,
Fast shipping
Responsive customer service