We recently received a user-submitted review about BidCactus which basically which started, This is the email I got from them today. Subject line was 'This Is The Last Email We'll Ever Send You'. Looks like I'm out the money I spent and will never receive the items I won.'
The review of BidCactus goes on to quote the entire email from BidCactus which was essentially a sales letter designed to convert ripped-off BidCactus customers into Beezid customers. There is no mention of correcting other problems such as shipping won auction items which are delinquent.
We immediately headed over to BidCactus.com and saw this: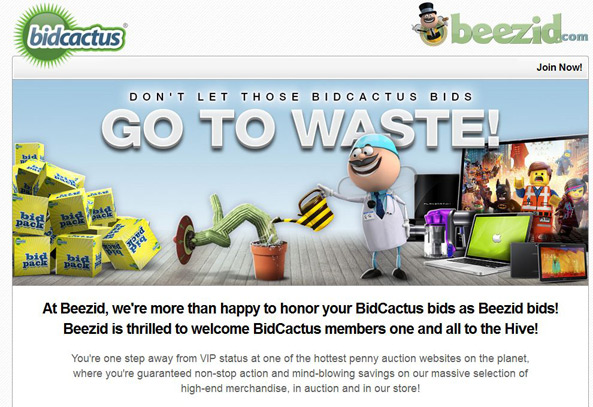 To be honest we're not completely surprised that BidCactus called it quits. We've had a number of BidCactus is a scam complaints lately.With unsuccessful attempts to contact BidCactus, we assumed that things were going down hill quickly.
We are surprised that a penny auction with the fairly good reputation that Beezid has is getting involved is such a cheesy promotion which is, quite honestly, a slap in the face to BidCactus bidders who are owed product. If you look at the above promotion, it is clear that Beezid is going to honor all of BidCactus's bids. What we want to know if whether they are also going to fulfill the countless orders which were never shipped.
Have you been bidding on BidCactus lately? Please fill us in on whether BidCactus is settling all debts or whether this is simply one last way for BidCactus to earn a buck on their way out of the penny auction industry.