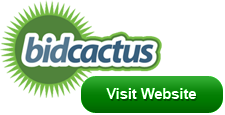 UPDATE: BidCactus is now Beezid.
**NOTE**: BidCactus is under re-review due to numerous complaints and reviews (see Bid Cactus user reviews below) from bidders. We strongly recommend you read the BidCactus reviews (submitted by people who claim to be customers) visiting BidCactus or taking part in BidCactus penny auctions!
Disclaimer: This review was written by an independent third party. For any comments or factual corrections, please email info@bestpennyauctionsites.org.
For those interested in more reputable, small-medium penny auctions, we recommend HappyBidDay and OrangeBidz.
BidCactus is an online penny auction website which launched in April of 2009 (one of the oldest penny auction sites still online). BidCactus, like many other penny auction sites, offers no-reserve auctions for brand new merchandise, gift cards and other products. At this time, BidCactus is considered to be a mid-sized penny auction smaller than Quibids and DealDash, but larger and more-established than many of the new penny auction start-ups.
About BidCactus
Website: www.BidCactus.com
Competition level: Medium
Bid Cactus coupon code: none needed
Free bids on sign-up: 0-60 (based on bid package purchased)
Other ways to get free bids: Facebook, contests, periodic promotions
BidCactus address: 191 Post Rd W, Westport, CT 06880-4625
Phone number: (203) 221-2742
Facebook page: facebook.com/bidcactus
BidCactus.com Review
BidCactus BBB Rating: F
BidCactus Reviews
BidCactus.com
was one of our recommendations for
beginners
for a couple reasons. First, BidCactus offers two different types of auctions for beginners. The first is called
First-timer Auctions
and is reserved for bidders who have never won. The other type of auction for beginners is called
Beginner Auctions
and these are reserved for bidders who have less than 5 wins. No other penny auction website that we know of used to cater to beginners as well. In our opinion, separating beginners from expert bidders really levels the playing field.
Secondly, BidCactus used to follow-suite with the other reputable penny auction website in offering Buy It auctions. They implementation of Buy It auctions is similar to Quibids in that the bid value is applied toward the purchase of the auction item.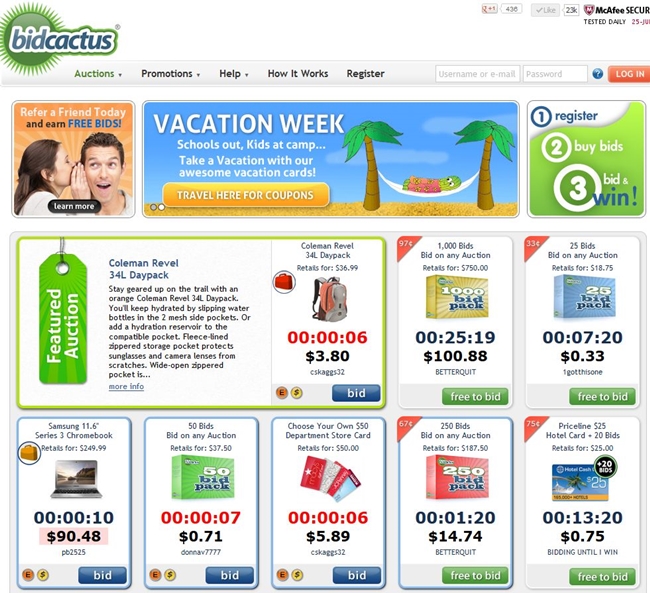 Bid Cactus Auction Types
First-timer Auctions- reserved for bidders who have never won an auction
Beginner Auctions- reserved for bidders with fewer than 5 auction wins
Expert Auctions- recommended only for expert bidders (careful!)
Buy It Auctions- auction losers can purchase the auction item and apply the value of spent bids toward the purchase (similar to Quibids)
No-limit Quickfires- short timer, no win limits (careful!)
Free to bid auctions- auction winner only pays the final closing price
Types of BidCactus Auction Items
Laptops
Bid packages
Sporting goods (camping, golf, coolers, knives, etc.)
Video game consoles and video games
Cameras
Jewelry (good selection of pendants, earrings, etc.)
Kitchenware
Gift cards
BidCactus Shipping Costs
Bid Cactus charges for shipping/processing on all auctions (exception: periodic free shipping promotions). All shipping charges, terms and conditions are listed on the bottom of each auction page. Note: We've had a number of reviews posted by others (see bottom of page) indicating that BidCactus is not shipping won items.

Is BidCactus a Scam?
Due to a BBB rating of 'F' and a number of complaints posted by others on this site, we do not recommend BidCactus at this time,
BidCactus.com Pros and Cons
Pros: Buy It auctions, lots of jewelry, 2 different types of auctions for beginners (this is huge!)
Cons: Currently, BidCactus is not responding to our inquiring and we've received a number of complaints regarding won items not being shipped.
We recommend 2 alternatives to BidCactus, OrgangeBidz and HappyBidDay.
BidCactus FAQs
Auto-bidding on BidCactus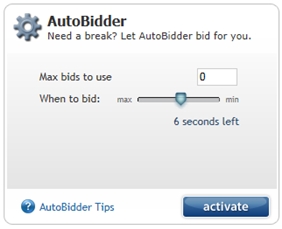 AutoBidder is the aptly-named auto bidding tool used on Bidcactus.com. AutoBidder can be set simply by determining the number of bids you want it to place for you.
When it bids: You set the bidding time
How many bids can it place per campaign: 999 total bids at a time (across all campaigns)
How many can be set simultaneously: Any number
Can it be deactivated? Yes
Restrictions: None
Posted in: BidCactus FAQs
BidCactus offers Buy It auctions where any auction loser can apply the value of lost bids (on that auction) towards purchasing the product for retail value.
Posted in: BidCactus FAQs
BidCactus.com User Reviews
The reviews below were submitted by users, and solely reflect the views of the individuals who submitted them. Users were not compensated for leaving a review.
BidCactus
Average rating:
12 reviews
Sep 29, 2017
SCAM SCAM SCAM SCAM SCAM
Mar 4, 2014
Huge Scan-Now Closing Doors
This is the email I got from them today. Subject line was 'This Is The Last Email We'll Ever Send You'. Looks like I'm out the money I spent and will never receive the items I won.



Dear BidCactus Member,



We had a great time while it lasted, but it's been a rough road, and as hard as it may be, we're not going to be able to keep the doors open here at BidCactus any longer.



We want to make things right.



We've worked out a special deal with Beezid, one of the top penny auction sites in the world. They're welcoming each and every one of our members, no questions asked... all you have to do is sign in to Beezid with your BidCactus account to complete the transfer.



Don't Let Your Bids Go To Waste!



If you've got bids with us, you can still use them! Beezid will honor all your BidCactus bids. They've got an incredible selection of high-end merchandise ranging from laptops and video game consoles to power tools and jewelry, and you can start winning all of it with your BidCactus bids today!



Your New Ride's A Cadillac



Beezid is a leader in the penny auction world, and you'll know it from the moment you log in. They guarantee a win with your first Bid Pack purchase, and feature the lowest cost-per-bid of any penny auction site, with an advanced Lock system that allows for more wins in less time. Enjoy nearly 20 different types of auction where you can recover bids, win cash, and more... and you'll never be more than a phone call away from Beezids best-in-the-industry Support Team.



A Once-In-A-Century Offer



Our friends at Beezid have really gone the extra mile to help our members out with an absolutely incredible offer unlike anything we've ever done. We don't want to give it away, but trust us... only Beezid is known to make this kind of offer (we were honestly a little shocked).



Not Sure About Bidding? Save Big Anyway!



Check out the Beezid Store for incredible bargains on the same top-of-the-line products you see up for auction... only at massive direct-to-buy discounts that you can get without bidding. It's completely free, and only at Beezid can you make money by flipping your auction wins to the Store and selling them.



Just follow the link below to upgrade your account to Beezid, or contact the Beezid Support Team at 1-877-423-3943. The whole process takes just a few seconds and you can start winning and saving right away.
Feb 12, 2014
DANGER !!!!!!!!!!!!!!!
The Better Business Bureaus has just lowered it's rating on Bidcactus to " F" """Types of business that, in BBB experience, are believed to operate in violation of the law or materially misrepresent their products/services. Businesses that fall within this category will always get an F grade.""". Bidcactus owes me over $2000 in auction wins, they have not shipped any of my wins and it's over 3 months now. Bidcactus is not answering there phone or e-mails; But they keep taking peoples money even today on there aution site.
Feb 9, 2014
Big time rip off!!!
My boyfriend is probably owed $5000 in cards from this cheating,lieing site! I believe now, they have closed up. He would call them many times before and even though they lied, they would answer the phone and at least answer emails. Nothing! Lately...thieves! Is what they are!
Feb 9, 2014
Big time rip off!!!
My boyfriend is probably owed $5000 in cards from this cheating,lieing site! I believe now, they have closed up. He would call them many times before and even though they lied, they would answer the phone and at least answer emails. Nothing! Lately...thieves! Is what they are!
Feb 4, 2014
A Massive Fraud
I cannot even rate them a 1 star since they do nothing but take your money and never ship you what you've won, paid for, and even paid their overpriced shipping charges. They owe me several hundred dollars in merchandise from 11 months ago and four hundred dollars in gift cards from 3 months ago. I am convinced I will never see them since every time I call or email they blow me off with a standard blame message about their shipping department. Hopefully my multiple letters to the U.S. Dept of Justice won't be thrown in the trash can either -- but I doubt it. Scam, theft, deceit all rolled into one.
Feb 1, 2014
Nothing worth bidding for
There is not a thing worth bidding for. Not a thing worth more then 20 bucks, whats the use of bidding for that?
Jan 20, 2014
upset
I am very upset with Bidcactus. I joined and won my first gift card on 12-23-2013 but still don't have it. I have won many auctions but the only thing I have actually received are the won bids. I tried emailing and no response. I tried calling today and I get a recording stating I am not calling during regular business hours when it is 11am on a Monday. Does anyone know if they are going out of business???
Nov 1, 2013
full of lies
Not to hard to win but impossible to collect on wins. I am owed over 20 gift cards and other items they promise are in the next batch but they don't know when the next batch will be sent. When you call they tell you anything to get you off the phone such as, "I will personally make sure yours ships tomorrow". Two days later, I call back and they deny saying they said that. Then they say they will check the phone recordings. It's all BS. Time to file a class action lawsuit.



The E-prizes are all a joke. Fun in Florida, Mexico or wherever, check the reviews for sites you have to send a cash deposit to. All worse the BC reviews. The $100 online cash card isn't worth anything. nothing of interest at the stores they limit you to.
Sep 30, 2013
bought in
Wish I hadn't won the "free" auction for the 1000 bids. I paid $77 for 1000 bids to find out they have about 9 things on auction at a time and it's been 8 hours and the one iphone 5 is still up for bid. Boring... takes forever.......and a bazillion complaints about shipping.