It sounds a bit ironic, doesn't it? The entire penny auction concept is centered around the center idea that we (the bidders) pay for bids in order to participate in penny auctions.
Recently, one of the top penny auction websites opened it's doors to free bidding. Now to clarify- SOME auctions are free.
How HappyBidDay Free "Happy" Auctions Work
Since the beginning of time (well, since HappyBidDay's inception), the concept of "Happy Auctions" was one where bidders could bid on auctions for free. HappyBidDay's Happy Auctions typically consisted of bid packs (which could be used on regular Penny Auctions) and low ticket items. Recently though, HappyBidDay opened up a whole new set of free auctions which included much more appealing auction items. Here are some samples we found today: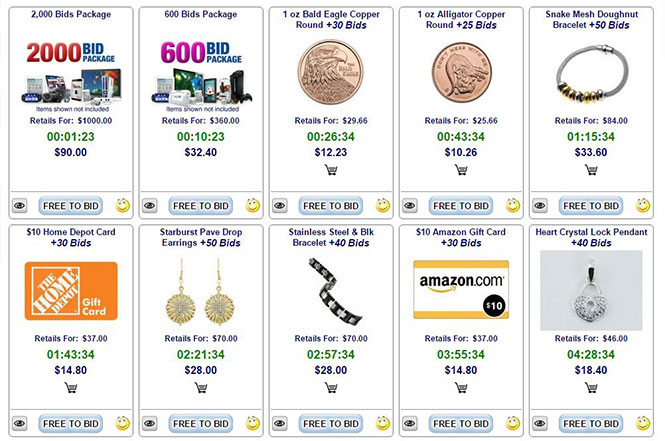 Included in the new Happy Auctions are jewelry, gift cards, coins, small electronics and more.
The Rules
To participate in Happy Auctions, bidders do not need any bids at all (and if you already have bids, they will not deplete as you bid). All registered users can bid freely on these free to bid auctions and if they win, the bidder must pay for the auctions item within 48 hours.
How to Find Free Auctions on HappyBidDay
HappyBidDay's free auctions are indicated by a small smiley face located in the lower right hand column of the auction box. You can also visit their website and find the "Happy Auction" category to filter for a list of free auctions only.
Why We Continue to Like HappyBidDay
Over time, we generally have a love/hate relationship with various penny auctions (and for good reason). With HappyBidDay though, we like how they continue to try to add value to the auction offerings. The new happy auctions are a great place to get some penny auction bidding experience before diving in to the more competitive campaigns.
Learn more about HappyBidDay or give it a try. Have you bid on Happy Auctions? Comment below with your experience.