Happy Bid Day now offers a new kind of auction, reserve auctions. Beezid.com has done something similar in the past so we wanted to take a close look at what these new auctions mean for HappyBidDay bidders.
First, here are the bullet points on Happybidday.com's Reserve Auctions:
Auction requires that a hidden reserve be met in order for the auction to continue
Once the reserve price is met, a notification appears to let bidders know
If the reserve is not met, all bids are returned PLUS 10%! That's right, you get a 10% reward if the auction does not reach its reserve!
If the reserve is met, all bidders (winners and losers) get 20% of their bids back.
Auction items are typically high end, expensive items
When we first saw reserve auctions, we were concerned but there is real value in these auctions.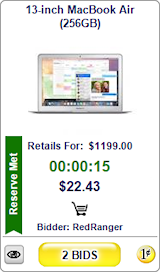 Posted in: HappyBidDay FAQs