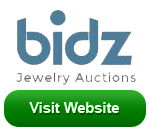 Bidz.com is a California-based auction website which specializes in Jewelery auctions, featuring name brands like Gucci, Chanel, Roberto Coin, Autore, Disney, Chrome Hearts, and many more. While Bidz.com is not a penny auction, the bidding style is very similar so we've decided to include it here.
About Bidz.com
Website:
www.bidz.com
Competition Level: Medium
Bidz coupon codes: Hard to find
Free bids at sign-up:
Unlimited
Other ways to get free bids: Bids are free on Bidz.com. The winning bidder just pays the final closing price.
Bidz Address: Bidz.com, 2400 Marine Ave, Redondo Beach, CA 90278 -USA
Phone Number: NA
Facebook: facebook.com/BidzAuction
Twitter: twitter.com/BidzAuctions
BBB Rating:
A+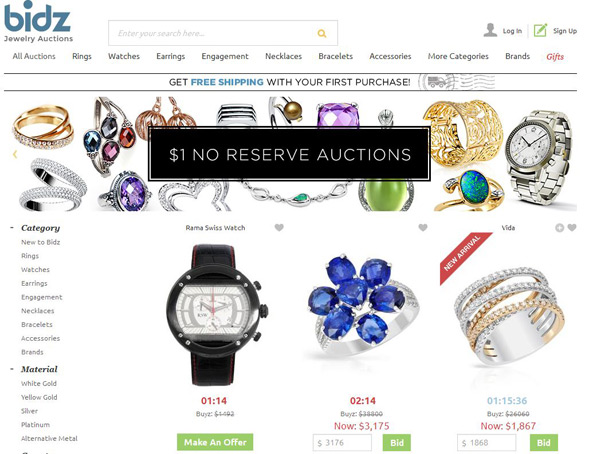 Bidz.com Review
Bidz.com is an alternative to penny auction bidding. The auction format of Bidz.com is what most people would consider a "normal" auction. In short, bidders do not have to pay for bids, they only pay the final auction price + shipping on Bidz.com. If you're a penny auction bidders who has been down on luck latey, Bidz.com may be a good alternative.
Bidz.com Auction Features
Bidz auctions are free to take part-in (there is no per-bid fee)
The auction timer counts down towards 0:00. In the last 15 seconds, each subsequent bid adds 15 seconds to the timer, allowing others to bid as well (similar to many penny auctions)
The final bidder when the timer runs out has to purchase the item for the closing price plus any shipping fees (although shipping is often free)
Common Bidz Auction Items
Ring Auctions
Watches
Earrings
Necklaces
Bracelet Auctions
Most other types of jewelry
Bidz.com Shipping and Fees
Bidz.com does not have any processing fees on its auctions and typically offers free shipping on orders of $59 or more. There are occasional shipping specials as well.
Is Bidz.com a Scam?
We don't think so. While we've read reviews which complain about the shipping times and bidding, we have no reason to believe that Bidz.com is a scam. The BBB rates Bidz.com an A+.
Bidz.com Pros and Cons
We definitely like the free bid model of Bidz.com and the fact that some jewelry auctions end pretty low. However, Bidz mostly offers jewelry auctions which makes it less appealing and we don't see the deals that we do on some penny auctions. Overall, Bidz.com is worth a try.
Click to try Bidz.com and bid free.
Bidz.com FAQs
Bidz.com is not a penny auction. While Bidz.com promotes huge savings similar to that of penny auctions, bidders are not required to pay for bids on this auction website. The end user only pays the final auction closing price plus an shipping costs (if there are any on that particular item).
Posted in: Bidz.com FAQs
Bids do not cost anything on Bidz.com. Bidz is not a penny auction or pay-per-bid auction.
Posted in: Bidz.com FAQs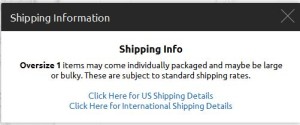 Bidz.com often offers free shipping on items over $59. Each auction page has shipping details on the auction page. Click the link and a pop-up window will display any shipping charges that apply.
Posted in: Bidz.com FAQs
Bidz.com User Reviews
Bidz.com
Average rating:
49 reviews
May 10, 2019
Bidz.com auction
NOT GOOD. 3 or 4 items never sent. Kept my $ over $100 ..... In the beginng it seemed to be ok, so i ordered more and more. For months talked to 2 people in CS....nothing. Sorry....dont use this site. First they delay it, then you dont get it...but they keep the cash!!!!
May 10, 2019
BIDZ won't ship or refund
The would not ship items won, nor issue a refund but store credit. Store credit doesn't do any good if they don't ship the item. I just received an email from BIDZ claiming BIDZ has been rebranded as EBIDZ, when in fact it is now MODNIQUE. They deleted my account from BIDZ/MODNIQUE. No item or refund and now no account
May 10, 2019
Scam
I have been using this company for ten years and was very impressed. Then in 2017 I ordered a "sterling silver" watch, but after a week of wearing it, almost all the "silver" was off and the base metal came out. They just shrugged off my complaint and told me to take it up with the service provider.



Late last year I ordered four items and when I wanted to track the parcel a few weeks later, saw that it had not been dispatched. My enquiries were ignored and then the website disappeared.

No star from me if the option were available.
Apr 10, 2019
Bidz - EBidz Fradulent
I never received my orders or money back. I contacted them several times, but never received my orders, they even tryed to keep me calm, (Tracy Munteanu) replyed to my email giving me false story of the items, that I was specting. Since December 12, 2018, I didn't receive no more replies via email from her. Now I noticed, that they changed the company name to Ebidz.com, to continue with this corruption,and abuse to clients. Crooked company not sending anything, just taking their money.
Apr 10, 2019
Bidz under new name Modnique
Is bidz selling under a new name? I came across a site titled modnique when you try to go to bidz. Is this another scamming company? I don't want too get ripped off.
Mar 29, 2019
Crooked and Fradulent
My daughter used the site in December 2018 and paid extra for expedited shipping. Never received her merchandise, or her money. Couldn't contact anyone and when she sent an email, they lied and said she would receive merchandise in early 2019. They even have the nerve to keep sending emails to get people to use their crooked company knowing they aren't sending them anything, just taking their money.
Mar 15, 2019
CROOKS
They took my money and never sent anything either!, they are being investigated by the Attorney General of CA and they are Rated F by BBB...they need to be shut down the their assets ceased to pay everyone back they stole from!! file your complaint online https://oag.ca.gov/contact/consumer-complaint-against-business-or-company
Jan 29, 2019
CROOKS
They took my money & then emailed me saying that they were the victim of fraud and could not give me the item I purchased, nor could they refund me. They then instructed me to contact my bank and see if my bank will pay me back. HOWEVER, The site is still up and running for unsuspecting bidders. What they have done too many consumers is illegal, and many are seeking legal action against the company which is headquartered in California
Jan 29, 2019
Order on 28/11/18 and still waiting nearly a month
Order on 28/11/18 and still waiting nearly a month with no message at all - tryed emailing quite a few times with no success.Hundreds of complains from people stating they have not received they goods so if it is not a scam i dont know what is and how can they get away with fraud.
Jan 17, 2019
still waiting for an order
Waiting for an order from October 04 2018 ,now January 11 2019 ! If you don't want to loose money don't buy anything from them !
Page 1 of 5:
«
‹
1
2
3
4
5
›
»