Auto-bidding on Beezid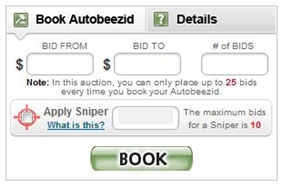 AutoBeezid is the name of one of Beezid.com's automated bidding tools. Like HappybidDay, AutoBeezid is started when a user enters in a 'bid from' (the price at which it will turn on) amount, a 'bid to' (the price at which it will turn off) amount and the total number of bids to book.
When it bids: During the final few seconds
How many bids can it place per campaign: Varies but usually 50-100 bids per campaign
How many can be set simultaneously: No restrictions
Can it be deactivated? Yes
Restrictions: None
BeezidSniper is Beezid's other auto-bid tool. The reason BeezidSniper was put into place is to account for the fact that many bidders would miss out with AutoBeezid because the 'bid from' price was never met. With snipers, the bidder simply determines the number of bids to place and Beezid will place them at any price, as long as the auction gets down to just a few seconds.
When it bids: During the last 3 seconds
How many bids can it place per campaign: Up to 10 bids except during turbo auctions where it's 20 bids (this is noted on each auction page)
How many can be set simultaneously: Any number
Can it be deactivated? Yes
Restrictions: None
Posted in: Beezid FAQs