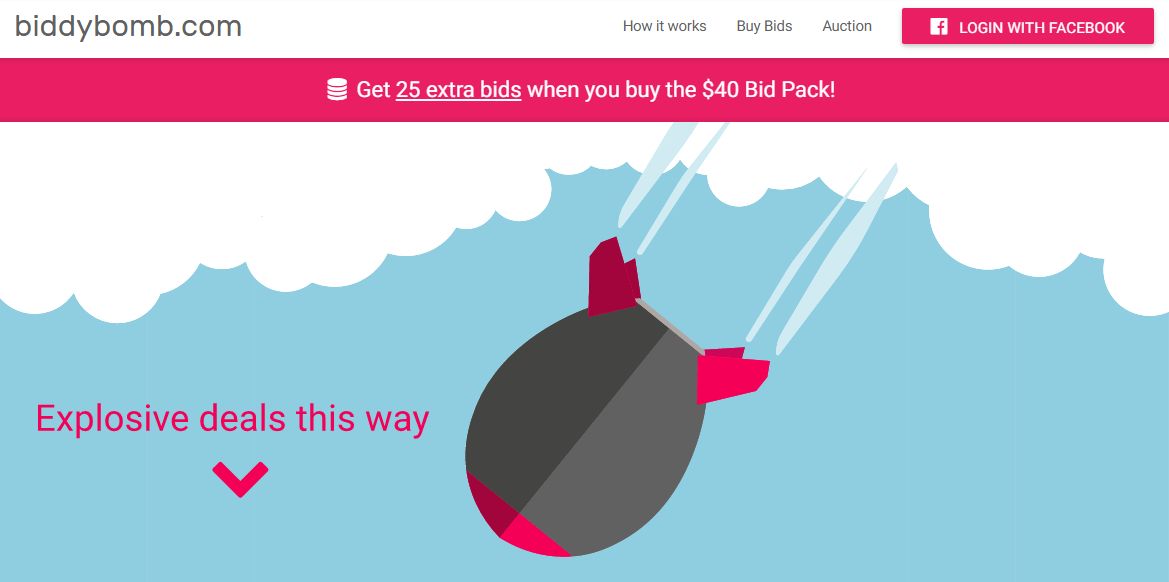 Disclaimer: This review was written by an independent third party. For any comments or factual corrections, please email info@bestpennyauctionsites.org.
BiddyBomb.com is a new penny auction website which launched just a few weeks ago. We had the opportunity to interview BiddyBomb's founder, Trey Schneider, to learn more about the Biddy Bomb penny auction.
How long have you been in business?
We have been in business for about 6 weeks.
How many auctions per day?
We run about 90 auctions per day.
Tell us about the types of products which you currently auction.
Auction products include a wide variety of gift cards (restaurants, sporting goods, cosmetics, airlines) and many small electronic goods (headphones, speakers, smart/exercise watches, computer accessories).
Please tell us about some of the different types of auctions which BiddyBomb offers
As of right now, there is just one type of generic auction. We are currently working to develop a 'buy it now' option.
What is the cost of bids on BiddyBomb.com?
The price per bid varies based on the size of the bid pack purchased. The smallest bid pack is $1/bid, and the largest bid back is $0.55/bid. We are also offering two specials right now. (1) New users get 5 free bids, and (2) The 50 Bid Pack gets 25 extra bids, so you get 75 bids if you buy the 50 bid pack.
Shipping costs are important. How much is shipping for won auctions?
Shipping is free!
How is BiddyBomb different from other penny auction websites?
What makes us different from other auctions is our user experience and our site performance. Our site design is much more modern and mobile responsive compared to other sites, allowing users to use the site on different devices and screen sizes. The site also incorporates a more modern technology stack, providing our users with a very performance and fast experience when bidding on items with very little latency between the browser and our servers.
Why did you decide to start a penny auction website?
I started this penny auction site for the same reason that I mentioned above: I wanted to provide a better user experience to my customers. As an avid penny auction user in the past, I grew tired of the repetitive, out-dated design of the existing penny auctions, and I felt like it was time penny auctions got a make over!
Where do you see BiddyBomb going in terms of size, number of daily auctions, things you want to do better than other penny auctions, etc.?
I think biddybomb.com has the potential to become one of the largest penny auctions. As more traffic comes to the site, we would scale the number of auctions linearly to support that new traffic, so users can still feel like they can win even though there are more people on the site. I think we have differentiated ourselves from the other penny auctions with our site design and our site performance, and in our future I'd like to implement a 'buy it now' option and a 'guaranteed win for new users' option
BiddyBomb Information
The reviews below were submitted by users, and solely reflect the views of the individuals who submitted them. Users were not compensated for leaving a review.