Penny auctions are alive and well, CentBids has all the makings of an awesome penny auction website. They are relatively new in the space but keep in mind with penny auctions the newer the better as there is less competition. They are managed by a company located in Columbia called GoCaribe S.A.S, and use merchant processors like PayPal and Stripe among others based on locality. The website is clean and easy to use and navigate, offering auctions of all types from electronics to home and garden. In this review, we are going to take a deeper look at CentBids.com keep reading below.
About CentBids.com
CentBids Coupon Codes: None Available

Free bids at sign-up: 3 Bids

Other ways to get free bids: Friend referrals
CentBids Address: CRA 3 SUR #48-27 Barranquilla Atlantico CO

Phone number: +57 (304) 55 90 250

Facebook: facebook.com/CentBid

Twitter: twitter.com/CentBids

BBB Rating: Not Accredited
Editor's CentBids Review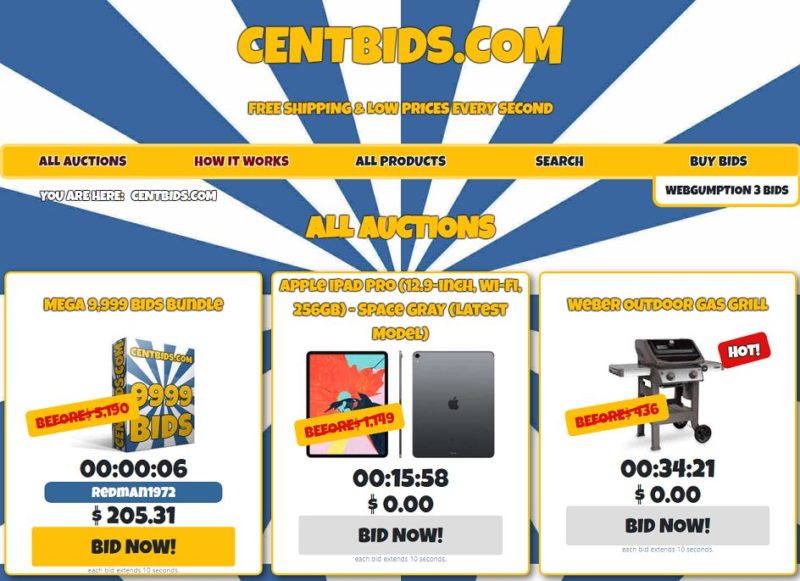 CentBids is a really interesting penny auction site, as soon as you land on the homepage you can see all the live auctions and it's like a carnival with so many colors and action. They have a great layout and we found it easy to navigate and begin bidding right away, once you set up an account you get 3 free bids so you can as well.
There were two main ways to use the website, you can either:
See All Auctions – You can see all the live and upcoming auctions for all products
See All Products – You can see all the products they usually have for sale and some additional data such as the average price it sells for, the additional details on the products and a countdown timer for when the product is in an auction.

Bidding Experience on CentBids
You have to stay on top of your auctions as there are not auto bidding features, and you might miss out and lose the auction if you're not paying attention and miss a bid. Every time someone bids it extends the auction by 10 seconds, so its kind of best to start bidding once the counter is down to 10 or fewer seconds. That's usually when all the action is happening, and after looking at a few different auctions I did notice that people tend to wait until around 3 – 4 seconds to place another bid.
If you stay inside of the product details (the page for the product your bidding on) you can see who is actually bidding, this tip is great for competitive research because they show you the 5 previous bids. Keep your eye on the bidder's nicknames and you will see who you are competing against and be able to make a strategy to beat them. Good news is if your strategy doesn't work and you have not won an auction and you just spent all your bids. When you decided to purchase more you will get back all of the bids you used on top of the ones you just bought.
CentBids Auction Categories
Computers & Laptops

Home & Garden

Smartphones & Tablets

Vouchers & Gift Cards

Game Consoles

Kitchen 

Toys

Hifi & Audio

Photo & Video Cameras
TV & Home Theaters
CentBids Shipping and Fees
This is really straightforward with CentBids, they always ship for free and there is no additional cost outside of the auction price.
Privacy & Security
They are really into privacy, stating that they do not store any information about their users besides the nickname and when bids are purchase. They follow a "Zero Data – Delete All" practice, also they don't send marketing emails.
CentBids FAQs
Here are some of the most commonly asked questions about the auction website, CentBids.com.
How can I get more bids for free on CentBids?
Penny Actionne
2019-06-21T20:11:48+00:00
There is a referral program where you can refer friend and family and for each refferal, you will receive 3 free bids. If they purchased bids you will receive 3 bids + 50% of their purchased bids.
PENNY AUCTIONS COMPARISON
Website
Editor's Rating
Type
Best Features
Read Review
Penny Auction
Many auctions available from TV's to home appliances, featuring beginner auctions, free shipping, great reputation.
@dealdash
Review Coming Soon
E-commerce
Huge online marketplace, many perks with prime membership including 2-day free shipping
@amazon
Read Review
Free Auction
Largest marketplace to find online auctions, with many categories, offers buy it now and promotions
@ebay
Read Review
Free Auction,
E-commerce
Offers products across all categories, similar to eBay, less expensive for sellers so slightly lower prices.
@bonanza
Read Review
Penny Auction
Always free shipping. You can earn free bids by referring friends and family.
@centbids
Read Review
Free Auction
Many auctions are available in all categories, unique product offering.
@ebid
Read Review
Free Auction,
E-commerce
Offers vacation & travel auctions, excellent Deal of the Day section with unique buy it now offers.
@ubid
Read Review
Free Auction
Steal of the Day section, various categories with a

uthentic police seized, stolen, abandoned and surplus goods.

@propertyroom
Read Review
Penny Auction

Special events to win extra bids, prizes, or other incentives, shipping is free, refer-a-friend program to earn free bids.

@orangebidz
Read Review
Penny Auction, 
E-commerce
Free shipping on almost everything, auctions available in many categories laptops and tablets to purses and jewelry.
@quibids
Read Review
Free Auction,
E-commerce
Various product categories from jewelry to electronics featuring high paced auctions, with Buy It Now options.
@tophatter
Read Review
Penny Auction, 
E-commerce
Primabids store where you can buy it now, winners can re-sell products which they've won, gift cards, games, and many other products.
@primabids
Read Review
Penny Auction
Beginner Auctions, buy it auctions, offers auctions in many categories and discounts for new bidders.
@wellbid
Read Review
Free Auction
Offers government Auction information for thousands of yearly government auctions, bank foreclosure, car, truck, and other automobile auctions
@policeauctions
CentBids Bidder Ratings and Reviews
The reviews below were submitted by users, and solely reflect the views of the individuals who submitted them. Users were not compensated for leaving a review.
uBid
Average rating:
0 reviews